Do you want to transform your dull and uninspiring bedroom decor?
Do you yearn for a space that oozes luxury, elegance, and a splash of history?
Well, you're in luck!
Let's enter the world of Art Deco. It's a design style from the Roaring Twenties that's making a big comeback in modern homes. And don't forget to check out our "One Of Our Art Deco Beds," designed with the iconic Art Deco style in mind. This statement piece will be the perfect addition to your new and improved bedroom.
So, let's dive into the world of Art Deco and see how it can elevate your sleeping space!
What Makes a Bedroom 'Art Deco'?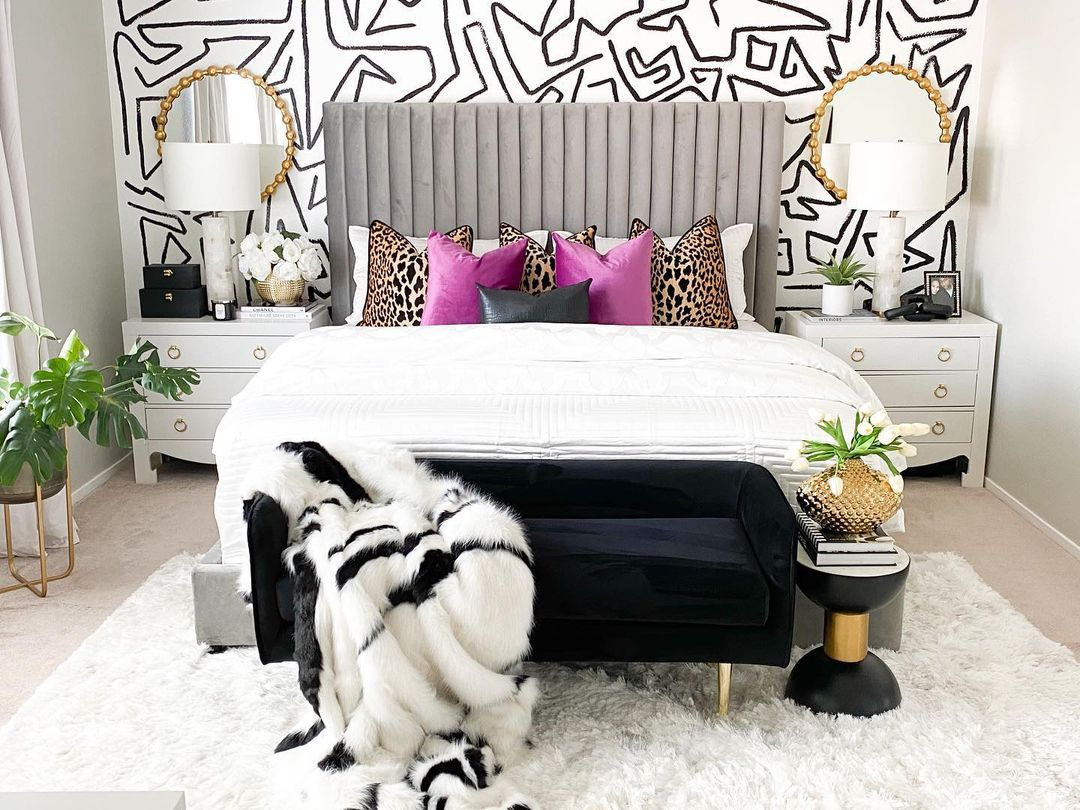 Before knowing How to Create an Art Deco Bedroom, it's essential to understand the essence of this design style. Originating from the Art Deco movement of the 1920s and 30s, this style is known for its love of geometric shapes, bold colours and luxurious materials. It's a style that truly captures the spirit of modernity and elegance.
The key features that define an Art Deco bedroom are primarily informed by the love of bold geometric patterns characteristic of the Art Deco style.
Additionally, the use of high-quality materials like natural wood and glass adds a touch of luxury to the room, further enhancing its Art Deco aesthetic.
The Role of Furniture in Art Deco Bedrooms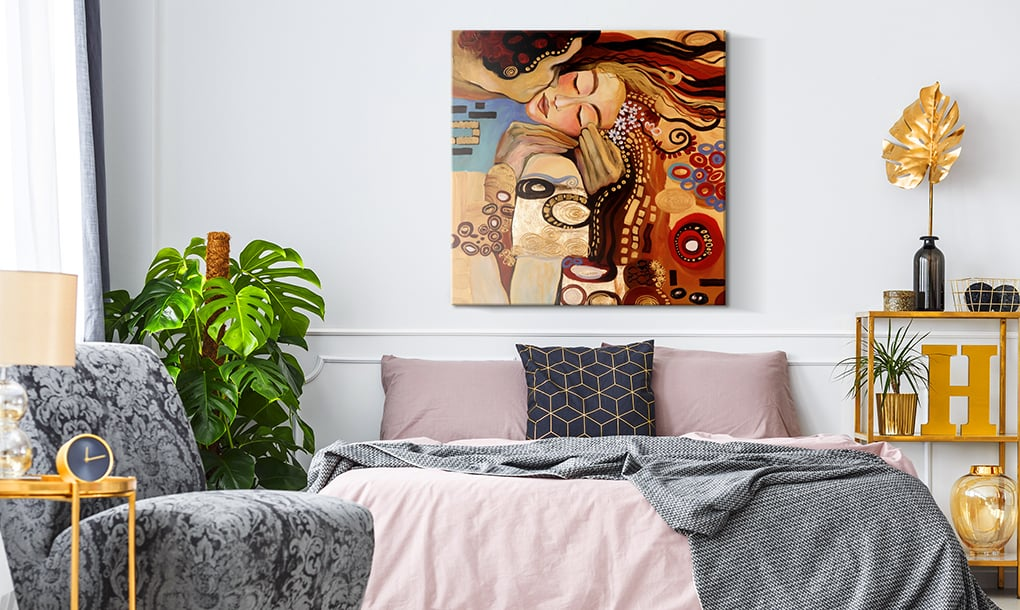 Furniture plays a pivotal role in setting the Art Deco theme. The oversized art deco bed, featuring straight lines and curved edges, is the focal point of the modern bedroom.
The Art Deco-inspired bedroom furniture not only provides functional benefits but also contributes significantly to the overall aesthetic of the room.
Moreover, equally important elements include the dressing table and wardrobes, which typically showcase a combination of geometric shapes and bold, clean lines. This Art-Deco-inspired furniture should ideally be made of exotic hardwoods or finished with a glossy lacquer to reflect light, enhancing the dramatic effect and luxurious feel of the room.
The Art Deco Colour Palette
Colour plays a crucial role in contributing to the Art Deco aesthetic. The Art Deco colour palette typically includes bold and bright colours paired with metallic accents to create a sense of opulence and luxury.
Moreover, Popular colour combinations for an Art Deco bedroom include black and gold, green and silver, or red and white. Imagine the opulence of a black and gold palette, evoking a sense of luxury and elegance. You will also find geometric patterns in metallic shades, such as gold or silver, adorning the walls and furniture.
How to Create an Art Deco Bedroom
Now that we have covered the basics of Art Deco style let's dive into how to create an Art Deco bedroom in your own home:
Incorporating Geometric Patterns
These patterns are a cornerstone of Art Deco design. The modern industrial age inspires bold, straight lines and symmetrical shapes and often contrasts with the more organic motifs of the preceding Art Nouveau period.
Moreover, To incorporate these patterns into your bedroom design, consider using them on your walls, bedding, or even your art deco vanity. You could also opt for wallpaper or use a geometrically patterned rug to anchor your room.
Balancing Art Deco with Other Design Styles
While Art Deco is a distinct style, it can be effectively blended with other interior design styles to create a unique look. For instance, a modern minimalist bedroom could be animated with some Art Deco-inspired wall lights or an Art Deco headboard.
Alternatively, a traditional room could be updated with Art Deco elements like a sunburst mirror or marble side tables. The key is to balance the bold, glamorous aspects of Art Deco with the subtlety of other styles, creating a design that feels both fresh and timeless.
Selecting the Perfect Art Deco Wallpaper
Wallpaper plays a significant role in Art Deco interiors. It's an easy way to introduce bold patterns and bright colours characteristic of the style. So, when choosing an Art Deco-themed wallpaper, consider the overall colour scheme of your room.
Generally, A wallpaper with gold or brass accents can bring a touch of luxury, while a design with blue or pink hues can add a softer, more romantic feel. You can also opt for a classic black-and-white design that will provide an excellent backdrop for bold Art Deco furniture and accessories.
Real-Life Art Deco Bedroom Inspirations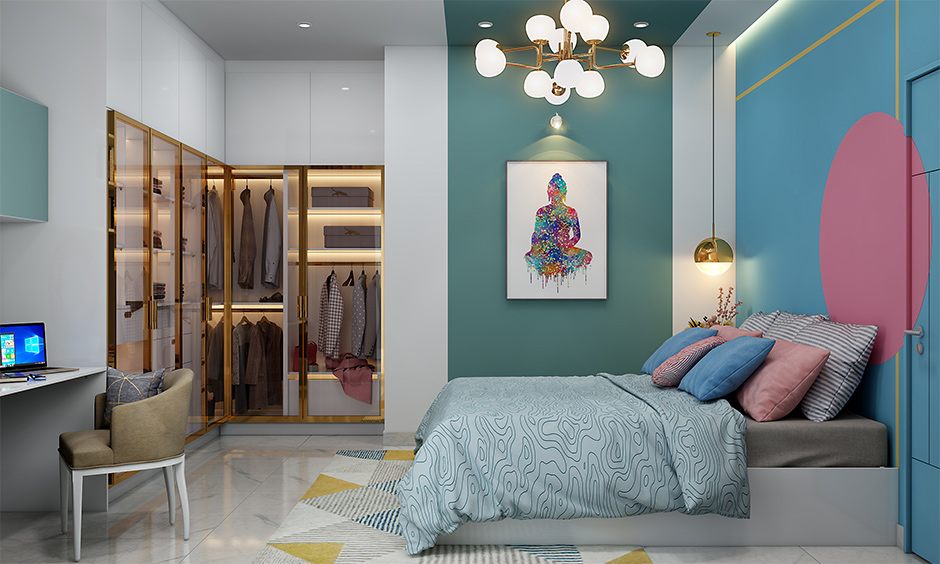 As far as Art Deco bedroom design inspirations go, there is no shortage of stunning examples:
Lighting: According to Bedstar, the Art Deco movement made lighting a fundamental part of interior design. For your Art Deco bedroom, consider adopting this philosophy; opt for glamorous lighting fixtures that make a statement. Think chandeliers, wall sconces with intricate designs, or table lamps with geometrically shaped shades.
Patterns and Colours: The Sleep Advisors interior designer suggest taking a 1920s style approach to your Art Deco bedroom, incorporating bold and exciting patterns for a fun-filled room. Don't shy away from using vibrant, contrasting colours, particularly those that were popular during the Art Deco period - think deep greens, bright golds, and rich blues.
Furniture: Bedding manufacturer Crafted Beds offers a stunning collection of Art Deco bedroom inspiration. Their designs show how you can incorporate the elegance of the era through your choice of furniture. Look for pieces with strong, clean lines and glossy finishes, often made from luxury materials like mahogany or chrome.

The mix of Classic and Modern: Bimago highlights how an Art Deco bedroom can be a perfect blend of classic and modern. This could involve pairing traditional Art Deco elements with more contemporary furnishings and decor, such as geometric patterns and luxurious fabrics.
Remember, the key to a successful Art Deco bedroom design is balance. While it's essential to incorporate bold designs and luxury elements, it's equally important to ensure that the space remains comfortable and inviting. After all, your bedroom should be a sanctuary where you can relax and unwind in style.
Where To Buy Art Deco Bedframe?
Now that you've gained a wealth of knowledge about Art Deco bedframes, it's time to breathe life into your vision of an Art Deco bedroom.
If you love Art Deco, this is your moment to create an environment where every detail, from the subtle artwork to the bold painting selections, enhances the overall aesthetic.
So, are you ready to fall in love with your bedroom again?
At Crafted Beds, we offer an exquisite range of Art Deco bedframes that will transform your space and reflect your unique taste. So, embrace the elegance today and create a haven that you will love.
Remember, Your Art Deco Bed is just a few clicks away.
So, don't wait. Let the transformation begin!
---