You're due for a new bed, but where do you start? Shopping for bedroom furniture can be daunting, especially if it's your first time, but don't worry – this complete guide has you covered!
We'll walk you through every step, from finding the perfect new beds to finishing with beds and bed frames that make your room unique. So get ready to sleep in style, and let's get started!
Factors To Keep In Mind When Buying Beds
Let's talk about choosing the right bed for you. You're in the market for a new bed, but with so many options, deciding which bed is right for you can be overwhelming.
To help make your decision easier, below are a few tips to consider when choosing the perfect bed.
Make Sure The Bed Is Tailored To Your Sleeping Needs
First, you must be sure that the bed you choose suits your individual sleeping needs. The right bed should provide good support and a comfortable sleep surface. Consider factors such as firmness level, type of material, sizes like a king-size bed, shape and other features.
Moreover, look into bed frames with adjustable frames, allowing you to personalize your sleep experience. Many adjustable bed bases have a range of positions and massage functions, providing additional comfort and relaxation.
For this reason, Crafted Beds offers various options of beds and mattresses to cater to all your sleeping needs. We have everything from upholstered to divan beds, providing storage solutions and comfort that suit your sleeping positions.
Ensure Excellent Back, Neck And Shoulder Support
The right bed frame, like an upholstered bed, should provide ample support for your back, neck and shoulders while you sleep. Quality materials like metal or strong hardwood can ensure the frame is durable and will last a long time.
Moreover, look for a frame with an adjustable headboard and footboard so you can adjust it to fit your body and sleeping position. Memory foam mattresses can also help to provide additional support for your back, neck and shoulders, as their material contours to the shape of your body.
Furthermore, picking a bed frame with a slatted deck or platform is important so your mattress has plenty of space to breathe and recuperate during the night. These small details will help you sleep better and wake up feeling refreshed.
Important Note:
If you're looking for beds that combine comfort and quality, look at Crafted Beds. Our selection of beds is designed to provide superior support and comfort while offering a stylish and modern aesthetic that will enhance any bedroom.
Invest In A Bed That Will Last You For Years
A longer lifespan comes with investing in quality materials. Quality frames are constructed of high-grade materials and are built to last, meaning you can enjoy your investment for years—even decades—to come.
For instance, solid wood frames may include reinforced joints for added strength and durability. In addition, beds with chrome plating or powder-coated finishes will also resist corrosion and rust.
When shopping for a bed frame, it's important to consider the type of material you want. While wood frames are sturdy and timeless, metal frames may provide additional support if you sleep on the top bunk.
Additionally, many beds are now available with upholstered bed frames that add comfort and a decorative touch to your bedroom. Even if you're on a budget, investing in a bed frame made of good-quality materials will ensure that it has the strength and durability to last for many years.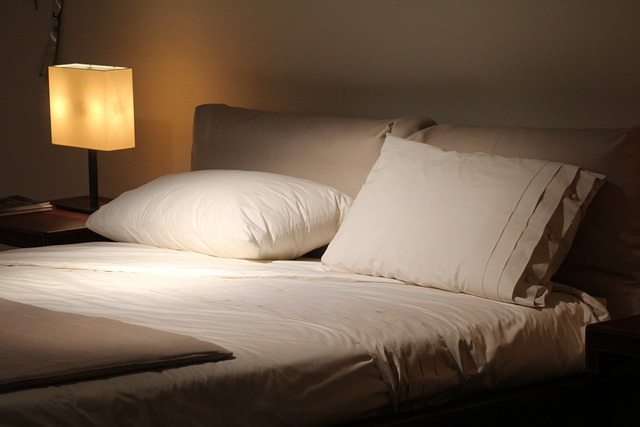 Choose One Designed With Advanced Materials And Technology
As mentioned, your bed frame should be designed with advanced materials and technology. These materials ensure your bed frame provides maximum comfort and support for years.
Furthermore, they are also more durable and sturdy than traditional frames, meaning they won't require frequent repairs or replacements.
Additionally, modern bed frames often feature built-in storage systems and adjustable frames, allowing you to customize your sleeping experience. So, don't just settle for any bed frame - find one that will provide comfort and convenience.
Look For A Bed That Suits Your Budget And Lifestyle Needs
It would be best to consider your budget and lifestyle needs when shopping for a bed. Either you want to find bed frames or sofa beds that will meet both requirements without compromising quality or comfort.
Or, you'll want to determine the king-size bed size and the type of bedding you require. Once you have established this, it is time to decide whether you would like a traditional bed frame or something more modern. Consider what type of material would work best for your needs and whether you want a wooden frame, metal frame or upholstered beds.
Opt For A Mattress And Base Combination That Fits Your Bedroom Space
Lastly, you want to remember the mattress and base combination! It is essential to ensure that these items fit your bedroom space perfectly in size, like a king-size bed and comfort. So measure your bedroom dimensions before buying a bed frame and choose the right mattress.
You should also look for models that are both comfortable and supportive, as this will make all the difference when it comes to sleep quality. Once you have found the perfect combination of frame, mattress and base, you can enjoy a great night's rest for years!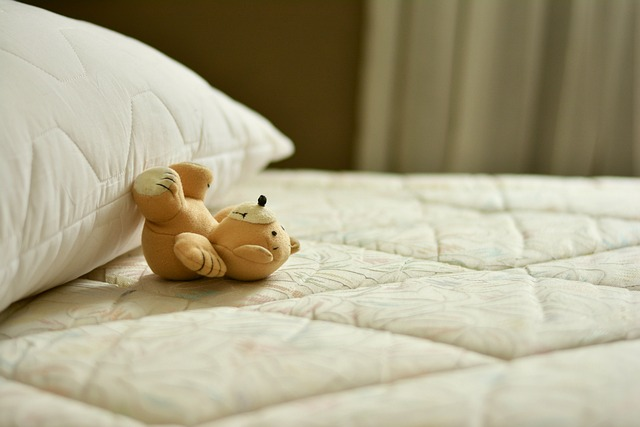 Where To Find The Perfect Beds And Bed Frames For Your Needs
Now that you have your list of requirements, it's time to go shopping for the perfect bed frame. There are a variety of outlets that sell quality frames, from furniture stores and mattress retailers to online marketplaces.
Here's a brief overview of great places to start your search:
Furniture Stores
Furniture stores offer a wide selection of bed frames, from traditional designs to modern styles. You can often find discounts, special promotions, and advice on choosing the best frame for your bedroom.
Furthermore, furniture stores usually carry a variety of sizes and styles to choose from. It's worth visiting several stores to get an idea of what's available and compare prices before purchasing. And the best part is, many furniture stores like Crafted beds also offer assembly services, so you don't have to worry about putting your bed together.
Online Stores
Last up are online stores like Craftedbeds, which offer the widest selection of bed frames. With so many options, they can easily overwhelm even the savviest shoppers. Fortunately, you can follow a few tips when shopping for a bed frames online.
Access to a wide selection, convenience of shopping from home, and the ability to quickly compare prices.

Many online stores offer free shipping, so you won't have to worry about bringing your new bed frame home.

Online stores often provide customer reviews that can give you valuable insight into the quality and durability of a product.
5 Best Beds On The Market Today
Now that you know all about getting the right bed for you, let's look at some of the best beds by Crafted Beds on the market today.
1.Clara Chesterfield Bed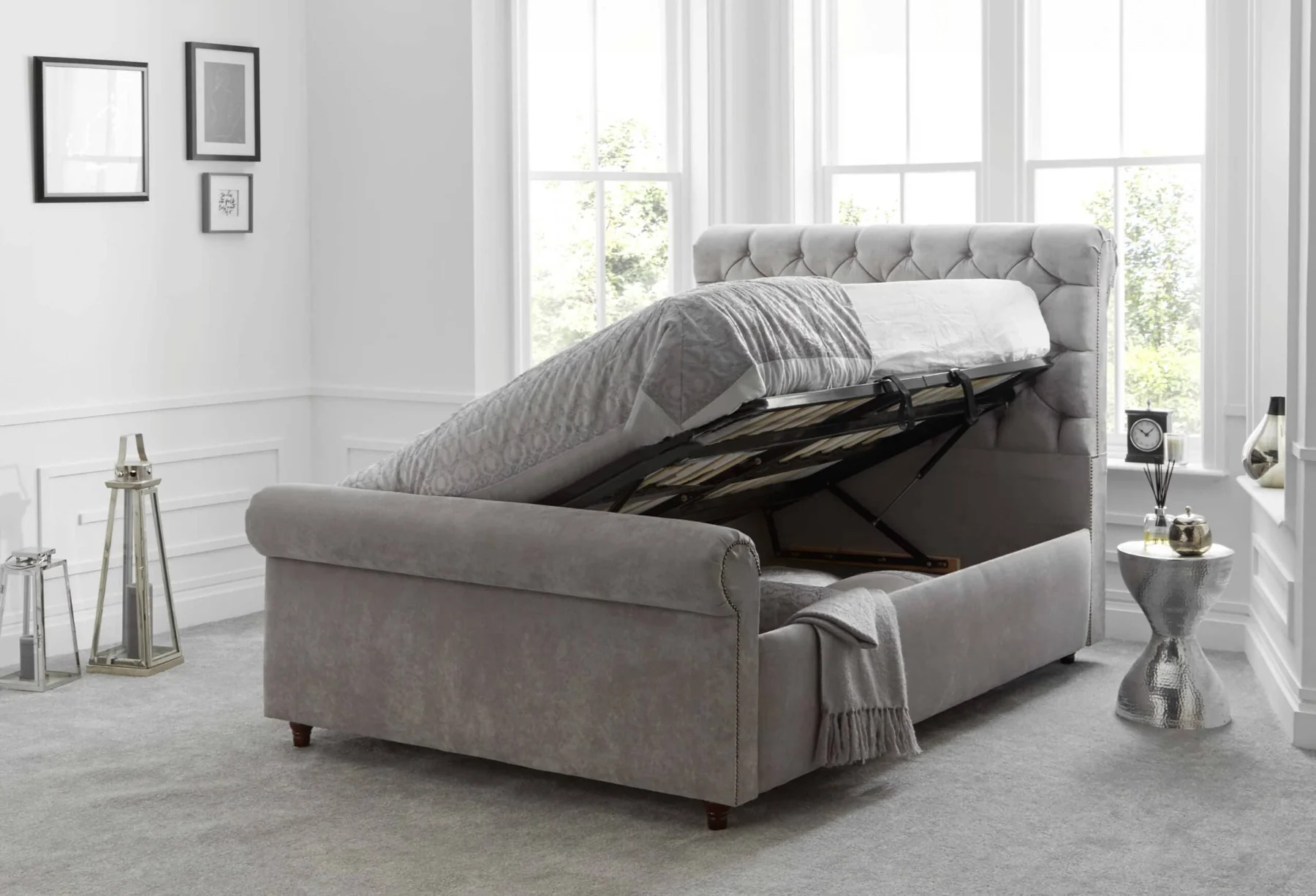 Indulge in pure luxury with the Clara Chesterfield Bed by Crafted Beds, a masterpiece that transforms your bedroom into a regal haven. Crafted from premium silver crushed velvet, it boasts a striking diamond design on the Headboard and footboard that screams elegance in every curve.
Furthermore, the traditional button detailing adds character to your sleeping space, making it a perfect blend of classic and modern styles for the ultimate sophistication. And with small double bed, single beds or king size beds, you can enjoy unparalleled comfort and space tailored to your needs.
So sink into the plush velvet and let the Clara Chesterfield Bed embrace you warmly, a bed fit for a queen or king. So why wait? Order now and spoil yourself with the amenity you deserve!
2.Bentley Bed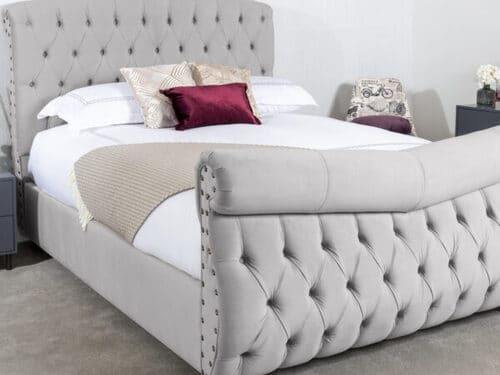 Craftedbeds is also introducing the Bentley Bed, the epitome of effortless elegance that will elevate any bedroom to new heights! This bed exudes pure luxury with its expertly deep-buttoned headboard and footboard, adding a touch of luxury to bedtime.
Furthermore, our skilled artisans have put their hearts and souls into creating a headboard and footboard that is a true masterpiece, and its unique design will be the talking point of your room.
We recognize that every individual has their preferred style, which is why Bentley Bed is offered in various fabrics and colours to suit your personal taste.
Moreover, the bed is crafted using the highest quality materials to ensure maximum durability and longevity. Its strong base ensures optimum stability to have a peaceful night's sleep.
At Crafted Beds, we understand the importance of simplicity in functionality, so the Bentley Bed has been designed to be easy to assemble, taking just a few minutes. Craftedbeds' mission is to provide our customers with a hassle-free experience they can enjoy for years. Invest in this bed and say hello to comfort, style, and a good night's rest.
Ultimately, the Bentley Bed is the perfect blend of style and practicality, and with its quality craftsmanship, it's sure to last for many years to come.
3.Soho Bed Frame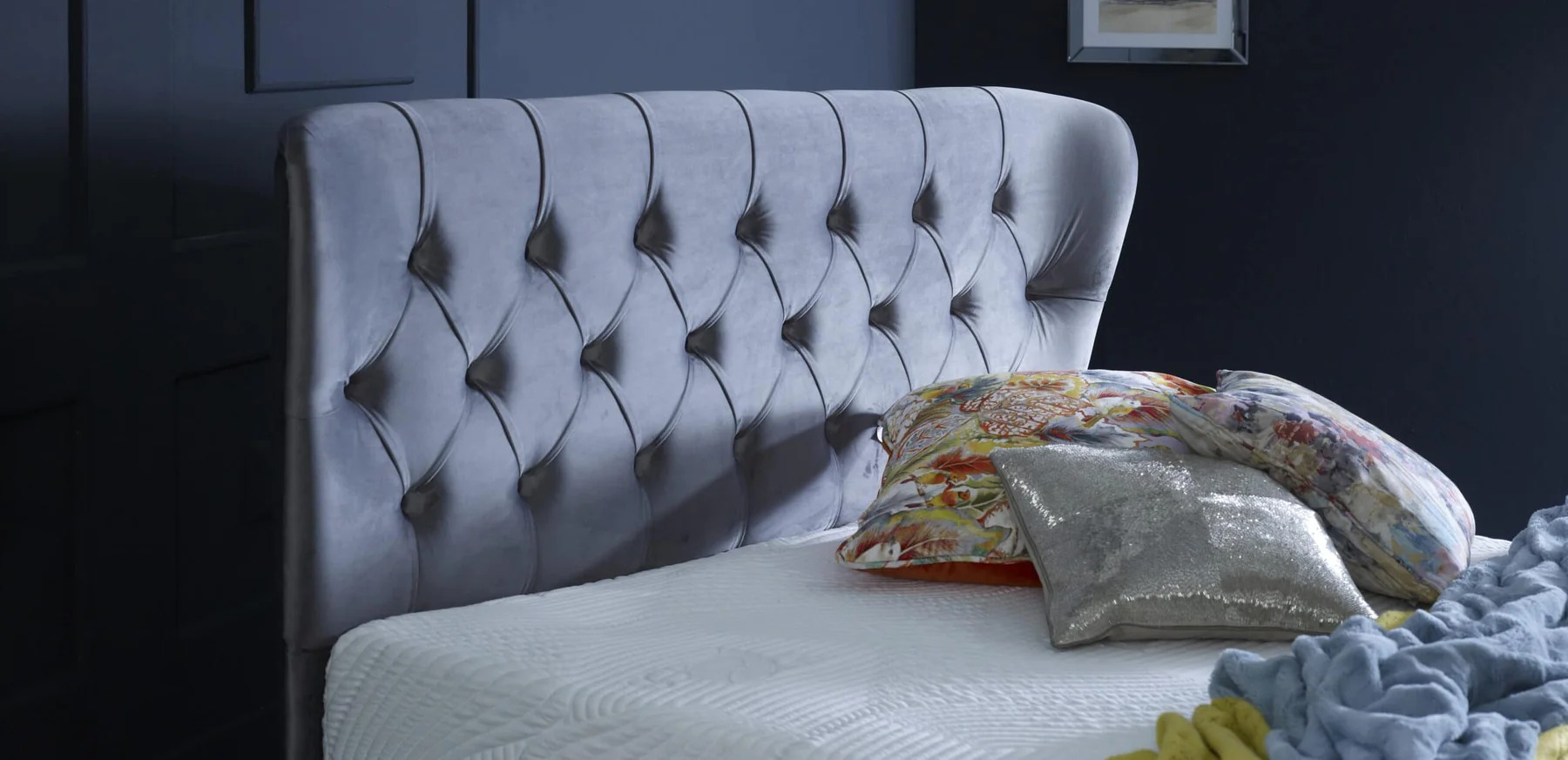 Now, if you're looking for a minimalist bed frame that doesn't skimp on style or comfort, then look no further than the Soho Bed Frame by Crafted Beds. Built with a sleek platform base, this bed is perfect for smaller spaces or those seeking a modern, minimalist aesthetic.
Moreover, don't let its simple design fool you - the Soho boasts a tall, grand headboard that commands attention in any bedroom. And with a smooth velvet frame that feels like a dream, you'll be counting the hours until you can crawl into bed each night.
Plus, with an optional Ottoman like with ottoman beds, under-bed storage option, you can easily stash extra linens, clothes, or anything else that needs a home. Available in various sizes, from single beds to super king size beds, the Soho Bed Frame is the perfect choice for anyone seeking a luxurious, contemporary sleeping experience.
4.Rio Divan Bed + Headboard
If you've any type of injury or you're looking for a bed that offers the perfect balance of comfort and support, than the Rio Divan Bed by Crafted Beds is the best choice for you! This stunning divan bed is available with a Platform top Base for firmer support or a Sprung Base for a softer, more luxurious feel so you can choose the perfect level of comfort for your needs.
Made from solid timber, this bed provides a sturdy, comfortable sleeping platform designed to last. Plus, with easy glide castors, it's easy to move this bed and set it up exactly where you want it.
But that's not all! The Rio Divan Bed also comes in a wide range of sizes and storage options to choose the perfect fit for your space and your lifestyle. Whether you prefer standard drawers, continental drawers or slide storage options, this bed has you covered.
Moreover with the option to select an RH or LH side for storage, you can customize this bed to meet your exact needs. So don't settle for anything less than the best. Choose the Rio Divan Bed by Crafted Beds and experience comfort, support, and storage!
5.Chesterfield Wing Bed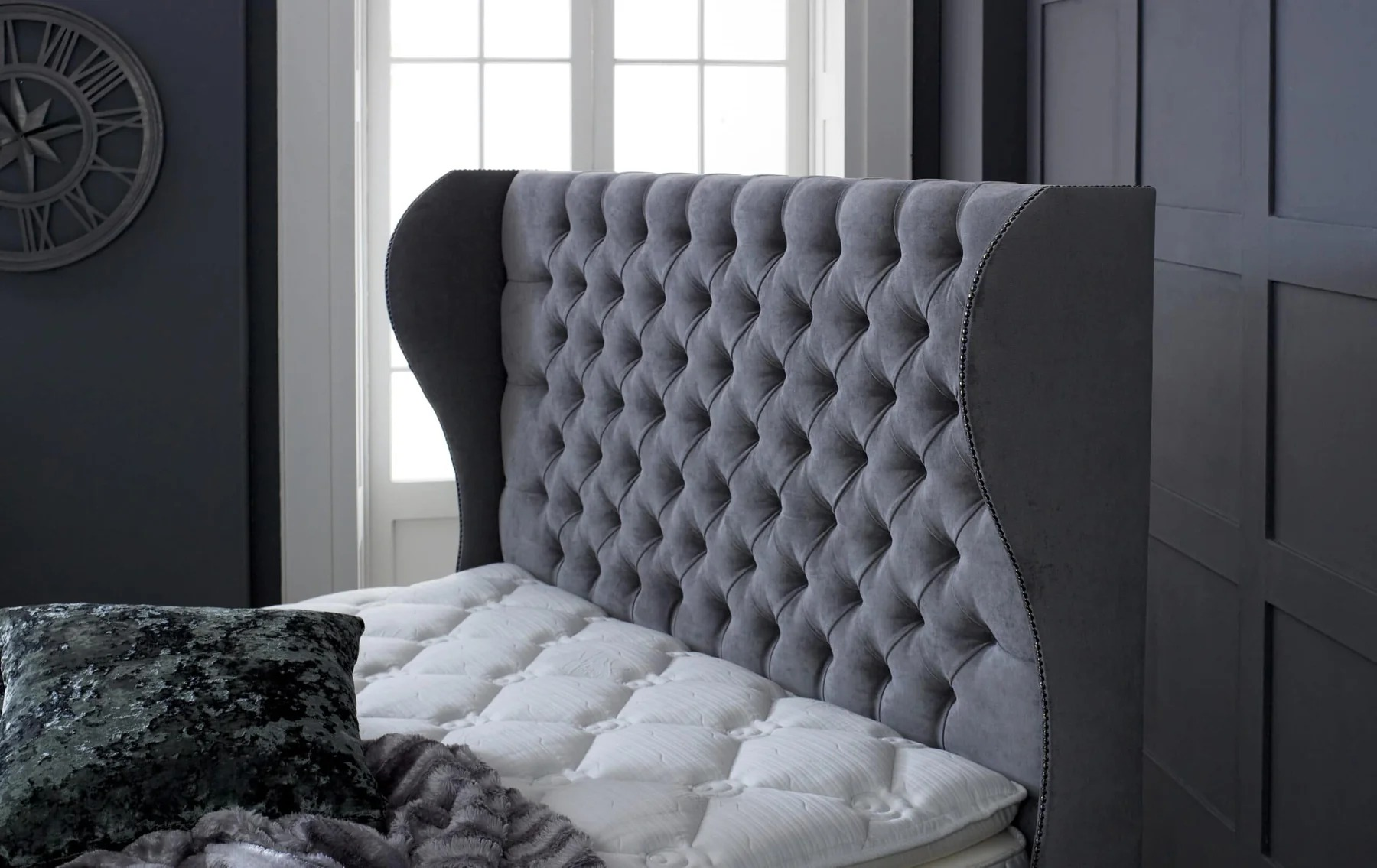 We're also introducing the Chesterfield Wing Bed by Crafted Beds - an exquisite addition to any bedroom accessories! With its full Chesterfield headboard, straight sides and footboard, this bed echoes grandeur and elegance.
Furthermore, the thick Spanish buttoned upholstered bed is to die for, and the Headboard stands tall, making a prominent statement. You can be sure that this bed is an excellent investment that adds timeless beauty to your space.
What's more, this bed is handcrafted to perfection by skilled craftsmen right here in the UK. The unique floor-standing Headboard ensures that the bed remains stable and sturdy, providing long-lasting comfort and support.
Moreover, don't worry about the assembly process - it's a breeze! The flat-pack design makes it super easy to assemble, so you can have your bed ready for use quickly.
So, if you're concerned about the colour, you can request fabric samples from our website, as images may not reflect the true shade supplied - we've got you covered!
Overall, the Chesterfield Wing Bed by Crafted Beds is an excellent investment for anyone looking to add a touch of grandeur and elegance to their bedroom. With its superior craftsmanship and breathtaking design, this bed will surely be the centrepiece of your space for years to come.
So, order your best one bed at Craftedbeds and rest enjoy the quality comfort sleep you deserve!
FAQs
Now that you know all about buying beds, let's look at a few frequently asked questions.
Are Double Beds Good For Couples?
A small double bed a great option for couples who don't mind getting cosy. They provide just enough space to sleep comfortably while taking up less bedroom real estate than larger beds.
Why Should I Get A Good Night's Sleep?
A better night's sleep is essential for your physical and mental health. Getting shut-eye can reduce stress and anxiety, sharpen your concentration, boost your energy levels, maintain a healthy weight, and even improve your memory. In addition to good night's sleep, it can positively affect your mood too!
What Exactly Are Divan Beds?
Divan beds are a type of bed that is made up of two components: a base and a mattress. The divan base can be constructed with drawers or without, depending on the desired size, style and preference. Divans are popular for their convenience and practicality as they provide storage space beneath the bed frame.
Wrap Up
To sum up, buying a new bed can seem like a daunting process. But with this complete guide, you now have all the information you need to make an informed decision and find the perfect bed for you.
If you want to accompany your new bed with the perfect mattress made for it, head over to Crafted Beds. We specialize in creating mattresses and bedding accessories designed with comfort and durability in mind. No matter your needs, there's something at Crafted Beds for you.
Furthermore, the vast variety of beds adds a dash of luxury and comfort to your bedroom, while ensuring that you don't waste any more time—shop our selection of beds today, and start getting the restful sleep you need!
---