Have you been tired of sifting through countless bedroom decor inspirations and ideas only to find nothing to match? Are you looking for an effortless way to style a bedroom that looks and feels luxurious without picking out every little detail?
Worried not! We have the perfect ideas for you. Combining these two essential pieces of furniture is aesthetically pleasing and incredibly functional. Not only will you have a beautiful, stylish bedroom that looks complete and coordinated, but it's also an ideal solution for small spaces since you can easily tuck the ottoman away when it's not in use.
This guide will walk you through why ottomans and storage beds with matching ottomans are the perfect matches made in heaven – from the visual appeal and functionality to convenience and space-saving. Read on to discover how to make the most of this timeless combination.
Are Ottoman Beds A Good Idea?
Absolutely! Ottoman and storage beds provide the perfect combination of style and functionality. They look great in any bedroom, providing a sleek, modern look that will turn heads. Ottoman beds are designed with space-saving features ideal for smaller bedrooms or guest rooms where storage can be an issue.
Many ottoman bed models also come with handy features such as built-in drawers and compartments, making it easier to stay organized while maximizing the available space in a room. Upholstered Ottoman beds are also incredibly comfortable, providing extra cushioning for a restful night's sleep.
Moreover, an ottoman storage bed is also great for those needing extra guests in their home, as they offer plenty of storage space for bedding, pillows, and other items. Plus, they can be easily moved, disassembled, and stored away when unnecessary. With all these features, it's clear that an ottoman storage bed is an excellent choice for any bedroom.
What Are The Benefits Of Ottomans And Storage Beds?
Storage beds, also known as ottoman beds, are a convenient and stylish solution to address any storage needs. It provides additional space for items that otherwise would take up valuable floor space or create clutter, and it also comes in various sizes, styles, and designs and provides the perfect maximum storage space options for any bedroom.
Some of the most common UK sized are:
Single ottoman beds, small double ottoman beds, king-size ottoman beds, super king ottoman beds, etc.
Ottoman storage beds are ideal for organizing clothing, bedding, or even off-season items. Ottoman beds have a large storage compartment beneath, making them an ideal choice for those who want to organise their bedroom. Ottoman storage beds have a unique design that allows them to fit into any bedroom easily and blend with the existing decor.
Ottoman Storage bed is also an ideal option for those living in small spaces since it provides both storage space and a comfortable sleeping solution. It can store all items neatly when not in use which helps to create more floor space and take up much less room than traditional beds. Ottoman beds even feature built-in drawers that store other items like bedding or books, making it a perfect choice for everyone looking for luxury comfort in their room.
5 Ottoman Bed Frames From The Craftedbeds
So far, you've got an idea of what ottomans and storage beds offer. Now we'll walk you through some of the best models that Crafted Beds offers. Here are a few sleep experts' ottoman bed frames for your bedroom refresh:
1. Art Deco Bed Frame

The ottoman bed frame is one of the most crucial elements when creating the perfect bedroom. The right bed frame can transform the look and feel of your room and provide the necessary support and comfort for a good night's sleep. That's where the Crafted Beds Art Deco Bed Frame comes in.
One of the standout features of the Art Deco Bed Frame is its unique, floor-standing headboard. The headboard is a visually appealing element and provides excellent support while sitting in bed.
The Craftedbeds Art Deco Bed Frame offers exceptional style, functionality, and comfort. Its unique design and high-quality construction make it a standout piece that will transform any bedroom.
So, if you're looking for a bed frame that looks great and provides excellent support and durability, the Art Deco Bed Frame by Craftedbeds should be your top choice.
2. Carrington Chesterfield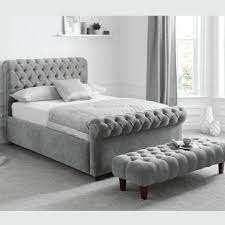 The Carrington Chesterfield bed frame is also incredibly versatile, thanks to its neutral colour scheme. The combination of brown and mushroom creates a warm and inviting atmosphere in any bedroom. The silver diamantes that line the wings of the bed frame add an extra level of sophistication and glamour that will impress anyone who sees it.
One of the most attractive features of the Carrington Chesterfield bed frame is its high-quality construction. It is built to withstand everyday wear and tear, ensuring durability and longevity for years.
The classic Chesterfield design, complete with buttons, further enhances the bed frame's durability, making it the perfect choice for anyone looking for an elegant and practical ottoman storage bed.
In short, if you are looking for an ottoman bed frame that offers comfort and style, the Carrington Chesterfield bed by Craftedbeds is a perfect choice. Its winged-back design offers added support and a touch of glamour, while its durable construction guarantees you'll enjoy it for years.
3. Park Lane Ambassador Bed Frame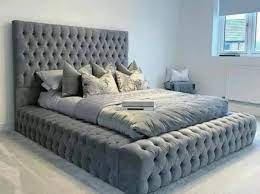 Crafted from the finest materials, the Park Lane Ambassador Bed Frame by Craftedbeds is the ultimate sleeping experience. With its expertly designed features, this ottoman bed frame with plenty of storage space provides unrivalled comfort and adds a stunning statement piece to your bedroom.
First, let's talk about the luxurious fabric finish. The sumptuous, soft, fine fabric finish not only feels great against your skin but also creates an opulent and elegant look that will impress. The diamond-tufted headboard, footboard, and upholstered side rails, all adorned with traditional button detailing, create an elegant and sophisticated atmosphere.
But it's not just the aesthetics of the Park Lane Ambassador Bed Frame that make it a top choice. The ottoman bed frame is built for optimal comfort and relaxation. You'll appreciate the support provided by the sturdy stand and the plush cushioning, which ensures a restful sleeping experience.
4. Lyle Panel Wing Bed Frame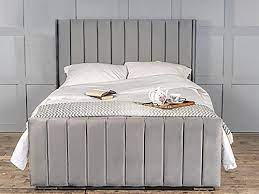 The Lyle Panel Wing Bed is another stunning piece of furniture by Craftedbes that promises to elevate the look of your bedroom and offers several benefits that make it stand out from other wing beds in the market.
Crafted with precision, this ottoman storage bed boasts a sturdy and durable construction that will withstand time. We use premium-quality materials to ensure that the ottoman bed remains pristine for years, making it an excellent investment if you want a clutter-free home.
The Lyle Panel Wing Bed by Craftedbeds boasts a sleek and modern design that is guaranteed to add a touch of sophistication to your bedroom. Moreover, with storage space, you can roughly organize and store your items neatly, making your bedroom look decluttered and elegant.
The winged headboard also looks great and offers excellent back support while sitting on an ottoman bed. The upholstered fabric finish adds a touch of luxury to the overall design, making it the perfect centrepiece for any bedroom.
5. Divan Base End Lift Ottoman Bed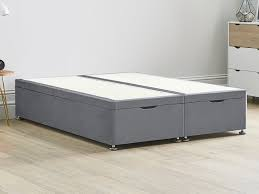 If you're not interested in buying a bed frame, you only want a base to get the perfect sleep with an organised bedroom. Then Divan Base End Lift Ottoman Bed by Craftedbeds is your ideal choice.
Divan Base is a durable, sturdy bed base that offers excellent support for any mattress. Its sturdy construction ensures you get many years of use without discomfort or sagging. The ottoman-style lifting mechanism is simple and hassle-free, allowing you to access ample storage space quickly.
The Divan Base, End Lift Ottoman bed frames, combines style and functionality. It comes in various colours and finishes, blending seamlessly into any decor. The sleek and contemporary design gives a modern look to your room while not compromising on comfort.
Overall, divan the ottoman beds are unbeatable regarding storage space. Its spacious interior provides ample storage for all your bedding essentials, including pillows, duvets, and blankets. This means you can finally clear clutter and keep your room neat by ordering Divan Base ottoman beds.
Ottoman Bed Buying Guide
Before purchasing a new ottoman bed, there are several factors to consider, from size and storage capacity to material and colour.
Now, we will provide an overview of the aspects you should consider when buying a new ottoman bed.
First, you need to determine your budget and which features are most important.
From there, it's time to measure the space available for your ottoman bed frame and select one with the correct dimensions.
Consider the storage capacity of your ottoman storage bed, and then decide on a material and colour that best suit your tastes.
It is also essential to look for features like ease of assembly and moving and a divan bed frame's weight capacity.
To further elaborate, let's discuss some questions you must answer before making a buying decision:
What Sizes Are Ottoman Beds Available In?
Ottoman bed frames are typically available in standard sizes, such as single, double, king, and super king. Determining which size ottoman bed frame is right for you will depend on the space you have available in the bedroom, and also consider how much storage capacity you need.
If you're looking for a luxurious new ottoman bed for your primary bedroom, a king-size ottoman bed or a super king ottoman bed could be a great choice. You can also consider Park Lane Ambassador Bed Frame for that luxurious feel.
How Do I Know Which Size Ottoman Storage Bed To Choose?
Firstly, you need to consider the measurements of the space you have available for the bed. Measure carefully from wall to wall and floor to ceiling before deciding on a particular ottoman storage bed size.
Secondly, it's essential to consider the number of people using the bed. If you plan to use it as a single bed, a smaller size may be more practical and comfortable for one person. However, if two or more people plan on using it regularly, you'll need to ensure enough room for everyone, so the king-size ottoman bed would work well.
Finally, think about how much storage space you need. If your ottoman bed frame is used to store large items such as pillows, duvets, and blankets, then a larger size may be required. On the other hand, if you are looking for an elegant new ottoman bed mainly for display purposes, a smaller size would likely suffice.
What Kind Of Mattress Do I Need For An Ottoman Bed?
The best mattresses for wooden ottoman beds are typically explicitly designed for them, as they provide better support than traditional models. These mattresses are usually made from high-density foam to provide the necessary support and comfort while allowing easy practical storage space.
Additionally, it's essential to consider what material your mattress is made from, as some materials are more resistant to mould or mildew growth than others. Finally, it would be best to look for a bed that offers adequate edge support so that it won't sink in when you sit or sleep on the edge.
Do Ottoman Beds Need Assembling?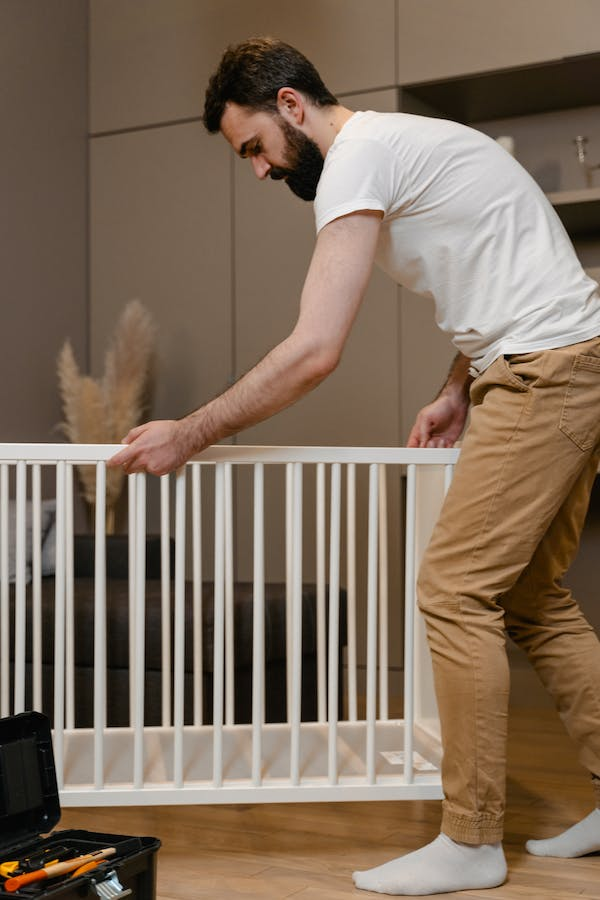 Yes, The new ottoman bed frames will often require some assembly. This typically involves attaching the base of the frame to legs or caster wheels and then putting together slats that form the mattress deck.
Depending on the model and construction, assembling wooden ottoman beds can be relatively easy with just essential tools, or it could be a more involved process that requires specialized tools.
It helps to follow the instructions provided by the manufacturer and, if needed, watch videos online which provide step-by-step instructions for putting together a particular ottoman bed frame.
If you're uncomfortable or confident enough to tackle the assembly yourself, ask a professional furniture assembler for assistance.
FAQs
Now that you've understood everything you need to know about beds with matching ottoman. It's time to walk through some frequently asked questions:
Do Ottoman Beds Break Easily?
No, ottoman beds are typically designed with durable materials and components, such as bed frames that can withstand regular use. When purchasing a new ottoman bed, ensuring the structure has been constructed from high-quality materials for maximum durability is essential.
What Are The Advantages Of An Ottoman Bed Frame?
An Ottoman Bed Frame is a practical and stylish storage solution which provides ample space to store items while freeing up floor space in your room. Ottoman bed frame also designs to add luxurious upholstery, which adds a classy look to your bedroom.
Are Ottoman Beds Comfortable?
Yes, they are highly comfortable and supportive, as most modern ottoman storage beds come with sprung slats that help to provide extra cushioning and comfort for the sleeper. The comfortable mattress of an ottoman bed also adds to the level of comfort so that you can enjoy a good night's sleep without trouble.
Wrap Up
To summarise, Beds with matching ottomans provide an attractive, comfortable, and versatile sleeping solution. They can enhance any living space, from extra seating or storage options to allying with other bedroom items to create a stylish look. This perfect combination of style and practicality makes it ideal for those looking to spruce up their bedroom. With the proper selection, you can find a bed with a matching ottoman that perfectly suits your needs and adds an attractive touch to any home.
And the good news is...
You can find the perfect bed at Craftedbeds. Crafted beds offer a range of ottoman bed frames in different styles and materials, making it easy to find one that suits your needs. From modern to traditional designs, you can be sure to find the perfect piece for your bedroom!
So why wait? Find your perfect bed today!
---