A good night's sleep is essential for our physical and mental well-being, and the right bed can make all the difference in achieving that. But, with so many options on the market, knowing which bed is best for you can be tricky – but don't worry! We've done the hard work for you and compiled a list of the 5 best beds to buy.
Whether you prefer a traditional bed or something more modern, this guide will help you find the perfect fit for your needs. We'll also look at factors such as comfort, support, motion isolation, and price points so you can make sure you're getting the most out of your investment. Moreover, we'll provide tips for getting the right bed for your sleeping style and budget. So, let's get started!
Why Investing In A Quality Bed Is Important?
According to Sleep Foundation, most adults spend 6-8 hours a day sleeping and another 1-2 hours lying down in their beds. That adds up to an average of more than 2,500 hours spent on the mattress yearly!
Therefore, a quality bed is essential for your overall comfort and well-being. If you aren't convinced yet, here are more reasons why investing in a quality bed is important:
Improves Your Night's Sleep
A comfortable bed can help you fall asleep faster and stay asleep longer. It helps keep your spine aligned, reducing pain and improving sleep quality. Not only that, but the bed also offers better support for your body. This reduces tossing and turning throughout the night, helping to ensure you have a restful sleep.
Helps Maintain a Healthy Posture
Good sleep is one thing, but a good bed helps maintain your posture. It provides the support and cushioning that you need for proper spinal alignment. This can help reduce tension in your body, leading to improved mobility.
Moreover, good posture can help reduce back and neck pain. It also helps reduce stress and fatigue and prevent long-term orthopaedic problems.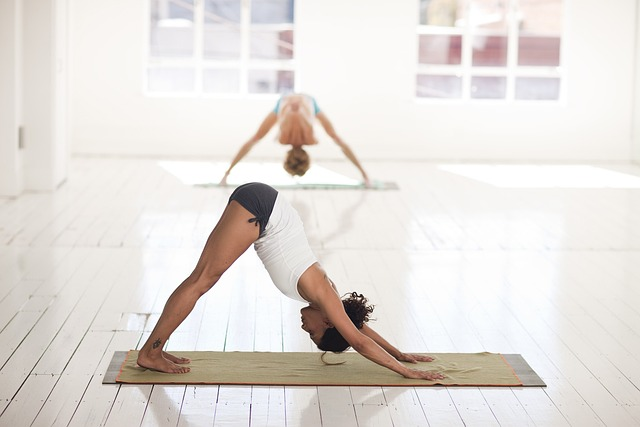 Promotes Deep Relaxation During Sleep
A quality bed can provide extended comfort throughout the night, allowing you to achieve a deeper level of relaxation. The combination of solid support, luxurious fabrics of the mattress, and ergonomic shapes can promote deep sleep as your body sinks into a state of optimum comfort.
Furthermore, with adjustable bed frames, the ability to adjust the head or foot positions gives you even more control over how well you relax during those valuable moments of sleep. This helps reduce back and joint pain but also aids in achieving REM (Rapid Eye Movement) sleep for those vital hours of deep relaxation.
Gets You More Bang For Your Buck
A high-quality bed is an investment worth making. According to NIH, not only do you spend a third of your life in bed, but a good bed can promote deep relaxation for more restful sleep. When you invest in a quality bed, you are investing in yourself and getting more bang for your buck.
That's because quality beds like bunk beds last longer and provide higher comfort and support. With a quality bed, you can get all the added benefits of more restful sleep without replacing it every few years.
Reduces Fatigue Throughout The Day
Unlike cheap sofa beds, quality beds provide optimal support to your body throughout the night, allowing you to rest comfortably and wake up refreshed. This, in turn, reduces fatigue during the day, leading to increased energy levels and improved cognitive functioning.
Different Types Of Beds For A Good Night's Sleep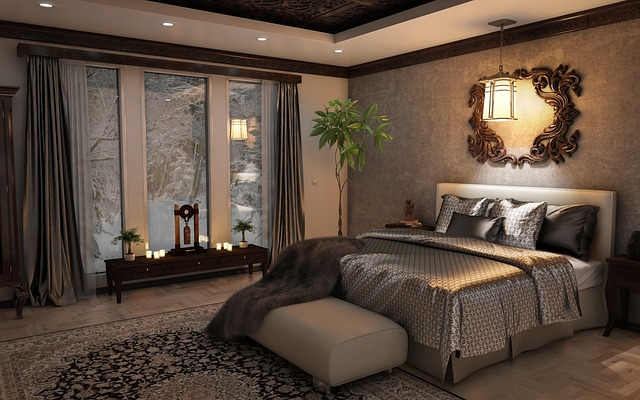 Sleep Foundation
says selecting the right bed is essential for a good night's rest. The right double bed can provide both comfort and support that helps to reduce back pain and promote better sleep quality.
All in all, the right double bed is out there for everyone. Whether it be a traditional mattress and bed frame set, an ottoman bed or even a memory foam option. Here's a brief review of different types of beds to help you make the best choice for your sleep needs.
Divan Beds
Divan beds are a great choice for anyone looking for an efficient and cost-effective way to add extra sleeping space to a bedroom. They offer the same support as traditional box springs but with more storage options.
They come in various bed sizes, from queen to king-size beds, and styles, making them perfect for any decor. Many models feature headboards that can be adjusted or removed, allowing for a customizable look.
Ottoman Beds
Ottoman Beds are a unique combination of practicality and style. This type of bed was first developed in the Ottoman Empire as king size bed during the late 19th century and soon became popular throughout Europe and North America.
They typically feature a raised platform base with an area to store items beneath, such as blankets or bedding, providing extra storage space for households. These beds also tend to have softer headboards, allowing for comfortable and ergonomic resting positions.
Upholstered Beds
Upholstered beds, divan beds and sofa beds are luxurious and stylish choice of bed frames for any bedroom. These beds bring the comfort of an upholstered chair with ample back support to your sleeping experience. The headboard and footboard are usually made from plush fabric material like velvet, linen or leather that can give your space an inviting and sophisticated look.
In addition to providing ample seating and relaxation, upholstered beds also offer a range of storage solutions. Many models have drawers or shelves built into the frame, making them ideal for stowing away pillows, blankets and other bedroom items. The headboard can even provide extra storage space to organise books and magazines.
Platform Beds
Platform Beds are a popular style of bed that provides a sleek and modern look. They are designed with a rectangular base, usually made of wood or metal, supporting the mattress without needing box springs. This allows for extra storage space underneath the bed and creates an airy feel in a room, as no bulky bed frames take up visual space.
Furthermore, platform beds are often cheaper than traditional bed frames as they require fewer construction materials and labour. They also tend to be lighter in weight and easier to move around due to their lack of box springs. Platform Beds are a great choice for those seeking an affordable and stylish sleeping option.
Chesterfield Beds
Chesterfield Beds are a classic design that originated in the 1800s and has been popular ever since. This bed type features an upholstered headboard, footboard, and sides with unique button tufting detail. It is typically made from wood or metal and offers a timeless look that can be used to enhance any bedroom decor.
Furthermore, chesterfield Beds are a great way to add an element of luxury and sophistication to any space. This bed type is also known for its comfortable support, which can be achieved through high-quality mattresses or memory foam layers.
5 Best Beds And Bed Frames To Buy
When buying a new bed, you want both comfortable and stylish. Here are five of our top picks for the year:
1. Geneva Divan Bed + Headboard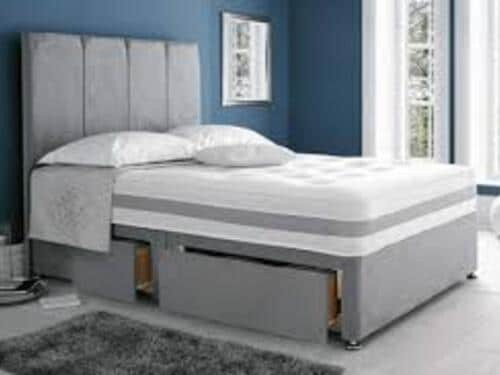 If you're looking for a double or small double bed designed and crafted with the highest attention to detail, then the Geneva Divan Bed + Headboard can be a great choice. This bed can have a 24" headboard attached to your divan bed frames, providing enhanced stability and structural integrity.
Plus, the Geneva Divan Bed is available in various colours and fabrics so that you can find the perfect look for your bedroom. Check out Geneva Divan Bed here!
2. Carrington Chesterfield Bed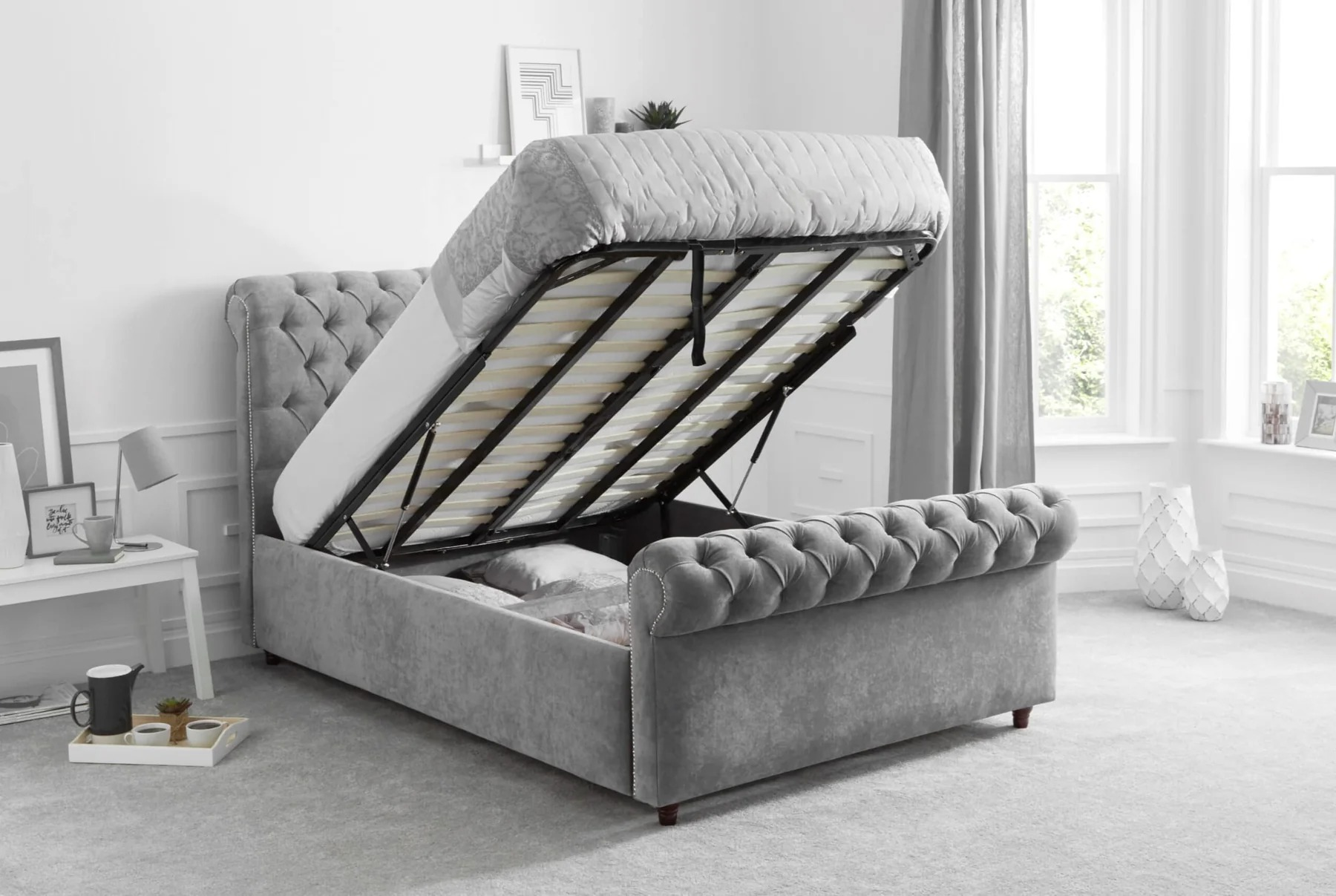 Experience absolute luxury and comfort with the Carrington Chesterfield Bed from Crafted Beds. This statement-piece bed frame will take your bedroom to the next level of style and elegance. The design is tailored to provide firm support for both partners to ensure a deep and restful sleep, so you can wake up refreshed every morning.
Moreover, one standout feature of this bed is the included timber slats that keep your mattress in place, preventing any uncomfortable sagging or shifting. Crafted Beds understands your need for a premium, better night's sleep experience, so we go the extra mile to ensure you get the best value for your money. Buy Carrington Chesterfield Bed from here!
3. Spencer Bed Frame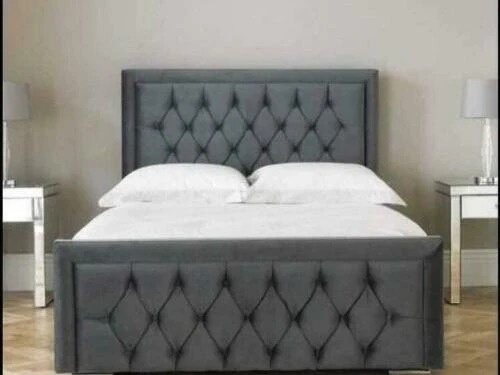 Again, if you want something that's both practical and stylish, then check out the Spencer Bed Frame from Crafted Beds - with thirty different colours and five-bed sizes from queen to king-size beds and super king-size beds; you're sure to find a perfect fit for your bedroom or guest room.
The beautifully designed Headboard with perfect stitching is the perfect centrepiece for your bedroom, crafted with care in the heart of Yorkshire. And thanks to the included timber slats, your mattress will stay sturdy and secure without the sagging or shifting that can be a common problem with other bed frames. Upgrade your bedroom or spare room today with the Spencer Bed Frame from Crafted Beds, and sleep in style and comfort every night!
4. Apollo Bed Frame
Apollo Bed Frame also offers both style and functionality. Because expertly crafted with top-quality wood and timber slats, this bed is gorgeous and built to last.
But that's not all - the Apollo are also storage beds with the option of a gas lift ottoman, giving you ample room to store all your bedroom essentials. Plus, with the added option of a solid base, you can rest easy knowing your bed is strong and durable. Upgrade your sleeping space with the Apollo Bed Frame, and enjoy both luxury and convenience in one beautiful package.
5. Park Lane Ambassador Bed Frame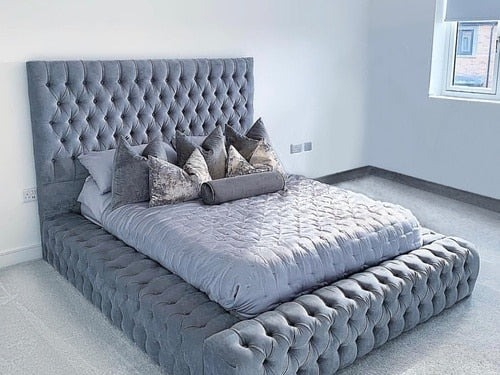 Crafted beds also introduce the Park Lane Ambassador Bed Frame, perfect for your bedroom furniture. Our customers have raved about its unique fashion and style, which has added a touch of luxury to their sleeping quarters. But it's not just all about appearances.
Furthermore, opt for the gas lift ottoman feature for those needing storage beds, offering ample storage while preserving valuable floor space. Ideal for customers with limited bedroom space. So, invest in the Park Lane Ambassador Bed Frame today and elevate your good night's sleep to the next level!
What To Consider When Buying A Bed?
When shopping for a new bed, there are several factors to consider. The bed size is important; like super king-size beds, it should be large enough to fit your body comfortably but not so big that it dominates the bedroom.
All in all, there are several other factors to consider when choosing the right bed, such as mattress type, frame material and construction, budget, and warranty. Taking all of these factors into account will help you find a bed that is both comfortable and supportive.
Mattress Size Of The Bed Frame
The mattress size must fit the bed frame, or there may be gaps around the edges that can lead to uncomfortable sleeping positions and potentially dangerous scenarios. It is important to measure your current mattress before making a purchase and understand the dimensions of the bed frame to ensure the mattress will fit properly.
Adjustability Options
When it comes to adjustability, buying a bed frame with adjustable features can be beneficial for many reasons. An adjustable bed frame can allow for multiple sleeping positions and make getting in and out of bed easier. They also provide extra support for those struggling to find a comfortable sleeping position on a standard mattress.
Furthermore, adjustable beds are great for people with back problems or joint issues, as they allow for a more comfortable sleeping experience. Additionally, adjustable bed frames can also be used to elevate the head and feet of the mattress, which can help improve circulation while providing relief from certain medical conditions.
Durability & Materials Used
Bed frames made of heavier materials, such as wrought iron or solid hardwood, tend to be more durable and longer lasting than those made from lighter materials, such as pine or particle board. The weight capacity of the bed frame is also important; if you plan on sharing your bed with a partner, opt for one with a higher weight capacity.
Either way, you'll want to ensure that any bed frame you buy is made from quality materials that will stand the test of time. Considering both the material and weight capacity is essential when buying a bed frame if you're looking for maximum durability and years of comfort.
Storage Capabilities Or Availability
Many beds, like bunk beds, come with built-in storage drawers or shelves underneath the frame, allowing you to store extra blankets, books, and clothing neatly. Some double and small double beds even have ottomans at the foot of the bed or bookcase headboards, which are great for keeping items tidy and organized.
Preferred Sleep Position And Firmness Preferences
Different sleep positions require different firmness levels, so it is important to choose the right one for your situation. According to Sleep Foundation, side-sleepers need a medium-firm mattress that supports the shoulders and hips while allowing some sinkage.
Moreover, back and stomach sleepers usually prefer firmer mattresses that don't let them sink in too much, while combination sleepers may be best suited to medium firmness options.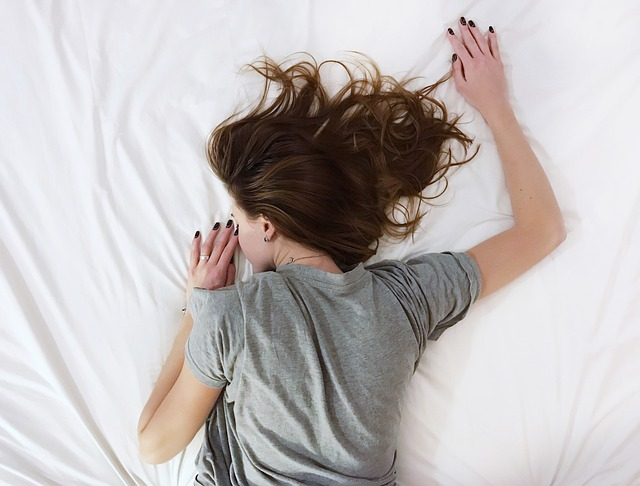 FAQs
Now that you know all about the best beds to get your hands on, let's look at a few frequently asked questions.
Which Bed Is Stronger?
When it comes to strongness, material matters the most, and the strongest ones out there are hardwood and metal. Beds made from these are durable and last longer under heavy weights than cheaper bed frames.
How Do I Choose A Bed To Buy?
First things first, discover your options. You should visit physical and online stores and check the beds in person. Moreover, remember to take your partner with you. Also, remember to list your non-negotiables and, lastly, picture how it'll look in your bedroom.
What Type Of Bed Is Most Popular?
Double-sized beds and double beds sell the most. Their versatile size perfectly accommodates both two and a single person. Furthermore, they fit both small and large bedrooms perfectly.
Wrap Up
All in all, our top favourite beds by Crafted Beds are a great choice for anyone looking for the perfect fit for their needs and preferences. Plus, with all the helpful tips we've given you, you have all the knowledge to shop around and find the perfect bed for your sleeping style and budget. So go ahead and sleep tight – you're bound to find the best bed of your dreams soon!
Furthermore, if you're looking for premium quality mattresses to pair with your favourite bed, you've come to the right place. Crafted Beds offers many mattresses to suit any budget and sleeping style. So remember to take a look at our mattress selection too! With the best beds, mattresses and more, you can rest assured that you'll get the best sleep.
---