Are you tired of sleeping on a cramped bed?
Do you constantly wake up with aches and pains?
If so, worry no more!
The solution to your sleeping problems may be as simple as upgrading to a queen size bed.
But what exactly is the size of a queen-sized bed? And how will it benefit you? What mattress should you pair it with for the ultimate comfort? A memory foam mattress or something else? Let's find out!
What is a Queen Size Bed?
Before dive into the details of a queen size bed, let's first understand what exactly it is. A queen-sized bed is a bed designed for maximum comfort and space. It's ideal for couples or single sleepers who enjoy having extra room to move around during their sleep.
Furthermore, the origins of the queen-size bed can be traced back to the mid-20th century when there was a notable shift in consumer preferences.
Ultimately, people began to demand more extensive beds that could offer more comfort and space. This marked the birth of the queen-size bed, quickly gaining popularity due to its perfect balance between ample sleeping area and reasonable room space consumption.
Advantages of Choosing a Queen-Sized Bed
You might be wondering why you should invest in a queen-sized bed. Well, let me tell you, the benefits are plenty! Here are a few reasons why choosing a queen bed might be your best decision.
More sleeping area: A queen-sized bed offers more space than a double or small double bed. This means more room to stretch out and sleep comfortably, whether sharing the bed or enjoying it all to yourself.

Comfort: With ample room for a memory foam mattress topper, a queen-size bed can provide exceptional comfort and support, enhancing overall sleep quality.

Versatility: Queen-size beds are versatile pieces of furniture. They can fit well in small and large rooms, such as primary or guest rooms.

Variety of bed frames: A wide variety of bed frames are available for queen-size beds. From simple metal frames to upholstered ones, you can find a style that suits your taste and complements your room decor.

Wide range of bedding options: From queen-size mattresses to super king-size duvets, numerous bedding options are available for queen-size beds, allowing you to create a cosy and inviting sleep environment.
Dimensions of a Queen Bed Frame
A queen bed frame typically measures 60 inches in width and 80 inches in length and is designed to fit a standard queen-size mattress snugly. This is a universal measurement, although certain brands vary slightly in dimensions.
However, when considering the overall dimensions of the bed frame, factors such as the material and the presence of a headboard come into play. These can extend the length of the bed frame anywhere between 70 to 90 inches. Consequently, the width may also increase by 1 to 4 inches.
However, when factoring in the frame, you can add 1-4 inches to these dimensions:

Moreover, understanding these measurements is crucial when planning your bedroom space. For instance, a queen bed can conveniently fit in rooms measuring 10 feet by 10 feet, making it a suitable choice for smaller master bedrooms and guest rooms.
Let's Measure a Queen Sized Bed
Now that you're familiar with the precise dimensions of a queen-size bed, let's see how it stacks up against other bed types. Generally, a queen bed lies in between a full and king-size bed.
A full-size bed measures 54 inches in width and 75 inches in length. It's the perfect size for single sleepers or small guest rooms.

On the other hand, a king-size bed offers more space than a queen bed, measuring at around 76 inches in width and 80 inches in length. It's ideal for couples who enjoy more room to stretch out and move around.
Here's a visual representation for clarity:

As you can see, a queen-sized bed is significantly larger than a double or small double bed. This mean, the queen-size bed frame provides adequate space for couples and can also be a luxurious choice for a single sleeper.
But, if you're seeking more sleeping space, consider a king-size bed. The king-size bed dimensions are typically 76 inches wide by 80 inches long. It offers a wider sleeping area than a queen.
Critical Considerations for Opting for a Queen-Sized Bed
Remmember, before purchasing a queen-size bed, there are several vital considerations that you should keep in mind. These considerations revolve around the room's space, count of sleepers, and sleep patterns. Here are a few points to ponder:
Room dimensions: Consider the room size, furniture placement, and any potential obstructions that may affect the layout. Ensure there is enough space for you to move around comfortably with the bed in place.
Number of sleepers: If you're sharing the bed with a partner or a pet, keep in mind that queen-size beds offer ample space for two. However, if your furry friend takes up most of the bed, consider opting for a king-size bed.
Sleeping patterns: Do you prefer to have extra room to move around while sleeping? Or do you prefer a more snug sleep environment? Consider these factors when choosing the bed size that best suits your needs.
With all these considerations in mind, it's time to decide whether a queen-size bed is the right choice for you or not!
Pros and Cons of a Queen-Sized Bed
So, it's time now for the queen-sized bed pros and cons. While it offers numerous benefits, a queen-size bed may not be the perfect fit for everyone. Here are some pros and cons of opting for a queen size bed:
Benefits of choosing a Queen-sized bed
Let's start with the benefits of opting for a queen-size bed:
Provides more space compared to a double bed or single bed.

It is ideal for couples and spacious for solo sleepers.

It accommodates various sleeping styles and allows both partners to sleep comfortably.

More room for movement and less likely to disturb your partner's sleep.
Potential drawbacks to consider
After weighing the pros, let's now discuss some potential drawbacks of a queen-size bed:
Requires a larger room size (at least 100 square feet).

It is more expensive than smaller mattress beds, including double and single beds.

Larger sizes may make it difficult to move or transport.

Bedding and accessories for queen-size beds can also be more expensive.

If you already have a bed mattress, you must purchase a new one or find a compatible mattress size.
Varieties of Queen-Sized Beds
Now that you know how to choose the perfect queen-sized bed, let's dive deeper into the various types available on the market. Each variant offers unique features to ensure a restful sleep.
Here are some queen-size bed varieties:
Metal Queen-Sized Bed: Known for their durability and sleek design, these beds often have a sturdy steel frame.

Wooden Queen-Sized Bed: These beds offer a traditional aesthetic known for their longevity and ability to blend with most decors.

Upholstered Queen-Sized Bed: These beds provide a luxurious touch with padded headboards covered in fabric or leather.

Hybrid Queen-Sized Bed: A combination of various elements from other beds, such as a metal frame for sturdiness, a wooden base for stability, and an upholstered headboard for comfort.

Storage Queen-Sized Bed: These beds have built-in storage options like drawers or compartments, perfect for small spaces or those who prefer a tidy look.

Platform Queen-Sized Bed: Known for their low profile, these beds have a platform where the mattress rests directly without needing a box spring.

Adjustable Queen-Sized Bed: These beds allow you to adjust the position of the mattress, usually with an electric motor, for optimal comfort and support.

Sleigh Queen-Sized Bed: Characterised by a curved or scrolled foot and headboard, resembling a sleigh.

Canopy Queen-Sized Bed: These beds have four tall posts that can be used to hang a canopy or curtains for a dramatic effect.

Four-Poster Queen-Sized Bed: Similar to canopy beds but without the overhead canopy, these beds have four tall posts at each corner.

Divan Queen-Sized Bed: It's a bed that combines a high-quality mattress on a sturdy, upholstered base.

Panel Queen-Sized Bed: These beds feature tall, decorative headboards and footboards made from a single material panel.
Remember, each queen-sized bed offers unique features and aesthetics to match your personal style and comfort needs. So, choose wisely!
Best Queen Beds Available at Crafted Beds
At Crafted Beds, we understand the importance of a good night's sleep and the role a comfortable bed plays in achieving it. That's why we offer a wide range of high-quality queen-sized beds that cater to every individual's needs and preferences.
Some of our best-selling queen-sized beds include:
1.Chesterfield Winged Upholstered Bed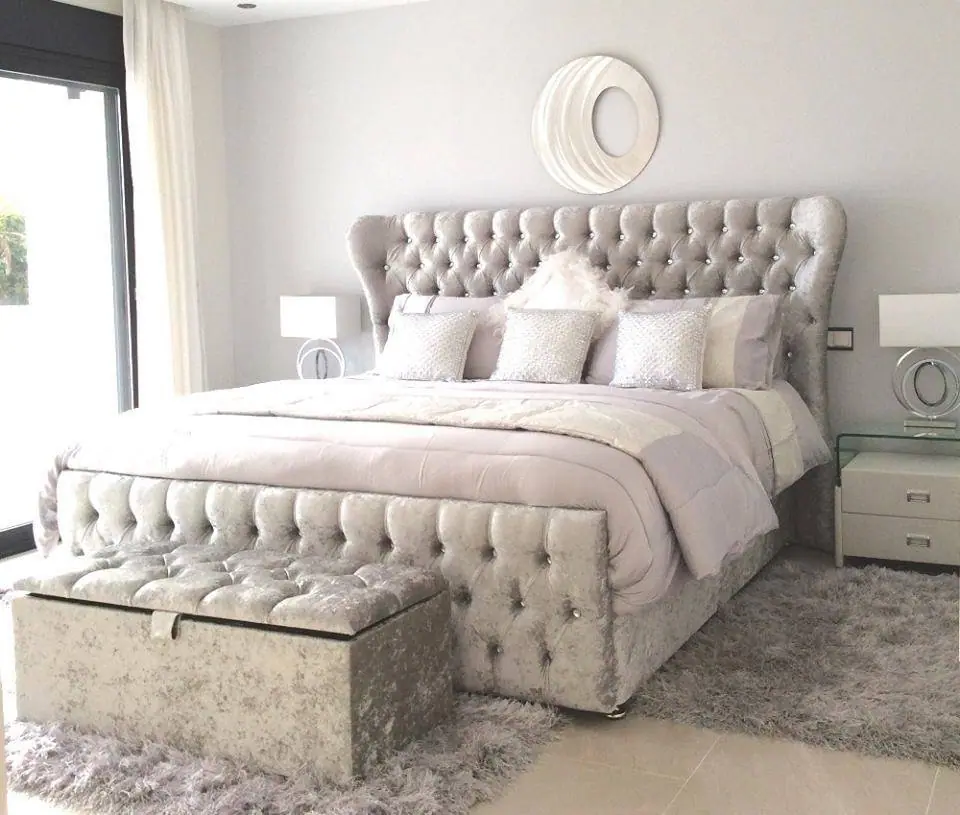 Let's delve into one of our standout offerings - the Chesterfield Winged Upholstered Bed. This luxurious bed frame features a classic, elegant design that exudes sophistication and comfort. The Chesterfield Winged Upholstered Bed is crafted with high-quality materials to ensure durability and style for years. The high, winged headboard adds an element of grandeur, while the plush upholstery provides a soft, inviting look.
The bed's dimensions provide plenty of room for a queen mattress size, even accommodating a king-size mattress if desired. The deep button tufting on the headboard and footboard underscores the bed's traditional aesthetic, while the sturdy frame ensures it can support a variety of mattress sizes.
Regarding comfort, the Chesterfield Winged Upholstered Bed is second to none. The upholstered headboard provides excellent back support when sitting in bed, and the robust frame ensures a stable, noise-free sleeping environment. Whether you're looking for a queen size mattress that makes a statement or a comfortable place to rest your head at night, the Chesterfield Winged Upholstered Bed ticks all the boxes.
So, Crafted Beds offers many high-quality queen beds, providing excellent choices for anyone seeking comfort and style. The Chesterfield Winged Upholstered Bed, in particular, stands out as a beautifully designed, luxurious bed that promises a great night's sleep.
2.Park Lane Ambassador Bed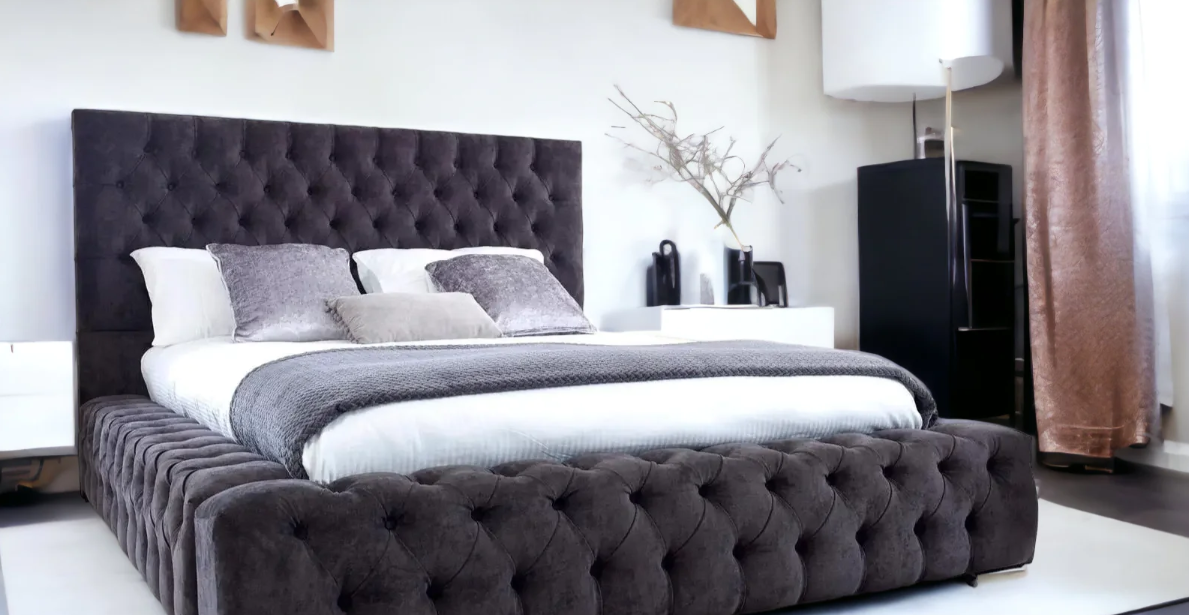 Now, let's shift our focus to the Park Lane Ambassador Bed. This bed is a true testament to the fine craftsmanship at Crafted Beds. Its luxurious design and meticulous attention to detail make it more than just a bed; it's a statement piece. The king-size mattress that accompanies this bed is nothing short of splendid. The queen size mattress balances firmness and plush comfort, making it a perfect fit for those who prefer king-size beds.
The dimensions of the queen and king-size mattress are designed to provide ample space for a comfortable sleep. The double bed feature of this bed allows for plenty of room, making it an ideal choice for couples or those who enjoy extra space. The bed size is also perfect for fitting within most bedroom sizes without overwhelming the space.
Therefore, if you're looking for a bed that provides comfort and adds elegance to your bedroom, the Park Lane Ambassador Bed is an excellent choice. With its quality craftsmanship and attention to detail, this bed will provide a good night's sleep for years.
3.Spencer Chesterfield Upholstered Bed Frame
Let's now have a look at the 'Spencer Chesterfield Upholstered Bed Frame.' The Spencer Chesterfield Upholstered Bed Frame is a standout product in the Crafted Beds lineup. This queen bed boasts a timeless design, combining modern aesthetics with traditional craftsmanship. The bed frame is upholstered in premium fabric, adding a touch of elegance to any bedroom. Its sturdy construction ensures longevity, making it a worthwhile investment for those seeking style and durability in their queen bed.
Moreover, the Spencer Chesterfield is more than just a bed; it's a statement of sophistication and luxury. It provides a comfortable, supportive base for your queen-size mattress, enhancing overall sleep quality. 
This bed frame is available in various sizes, including for king mattresses and double bed options which cater to diverse customer needs.
So, if you're looking for a bed that exudes class and comfort, the Spencer Chesterfield from Crafted Beds is an excellent choice.
5.Bentley Bed By Oliver And Sons
The top choice for anyone seeking a sturdy, modern bed with a touch of classic design is the Bentley Bed by Oliver and Sons. It's a true masterpiece in the world of queen or king-size beds. The Bentley Bed is more than just a bed; it's a statement piece. Handcrafted with meticulous attention to detail, it showcases the brand's commitment to quality and craftsmanship.
Moreover, The bed frame is robust and sturdy, designed to last years. Yet, it doesn't compromise style; its elegant design exudes a timeless appeal that can elevate any bedroom decor. The mattress accompanying this king-size bed is equally impressive, offering support and comfort that ensures restful sleep night after night.
Therefore, it's no surprise that Crafted Beds is known for its exceptional range of queen beds, including the Bentley Bed.
All in all, with their commitment to providing the best sleeping experience, Crafted Beds has become a go-to brand for discerning individuals searching for premium bed frames and mattresses. With our wide range of sizes and designs, there's something to suit every bedroom aesthetic.
Whether it's the classic elegance of the Chesterfield Winged Upholstered Bed or the modern, sleek design of the Bentley Bed, there's no doubt that Crafted Beds has something for everyone.
How the Kind of Mattress can Influence the Comfort and Longevity of a Queen-Size Bed
Now that you're fully versed in queen-sized beds, we should dive into the next pivotal element of a restful slumber - the mattress.
The type of mattress you choose can significantly influence your comfort and your queen-size bed's longevity. Mattress thickness, for instance, is often associated with luxury and a good night's sleep. Thicker support cores are known to resist sagging, extending the mattress's usable life.
So, when it comes to queen-size mattresses, it's essential to consider the type of foam used in the comfort layer, as it plays a role in the bed's durability. For example, latex foam tends to last much longer than other materials.
In particular, cooling gel memory foam mattresses are renowned for their superior comfort, motion transfer, heat protection and durability, making them an excellent choice for queen-size beds.
Additionally, higher-quality materials may lead to a longer lifespan of the mattress. So, it's recommended to look for beds made from natural latex or organic materials. These materials are not only more durable but also hypoallergenic and resistant to dust mites. This can be especially beneficial for those with allergies or sensitive skin.
Guidelines for Picking the Right Queen Size Mattress
As we've established, the type of mattress you choose for your queen-size bed is essential. Here are some additional guidelines to help you make an informed decision:
Size Matters: The recommended room size for a queen-size mattress is at least 10 by 11 feet. Make sure your bedroom size can accommodate this without feeling cramped. If space is a concern, consider options like double beds or twin-size mattresses, which are smaller but still provide ample comfort.

Cost Consideration: A good quality queen mattress typically costs between $1,000-$2,000. Refrain from being tempted to skimp on cost; a good mattress can significantly improve your sleep quality. If budget is a constraint, consider smaller sizes like a double mattress, twin mattress or single mattress, which can be more affordable.

Sleep Position: Your sleeping position should heavily influence your choice. For instance, the best beds for back sleepers have a firmness rating between 5 and 7. If you prefer sleeping on your side or stomach, you might need a different level of firmness. Remember, comfort is vital.

Material Matters: Mattresses containing memory foam provide the best support, comfort and motion isolation. However, there are other materials like latex and innerspring that you might prefer. Each material has its advantages and disadvantages, so do your research before making a decision.

Dimensions: The standard dimensions of a queen-size mattress are usually 80 inches long and 60 inches wide, providing plenty of space. However, if you're taller or need more space, consider looking into larger mattress sizes like King or California King mattresses.

Trial Period & Warranty: Many mattress companies offer a trial period. Use this time to determine if the mattress is right for you. Also, check out the warranty terms - a more extended warranty often indicates higher quality. You can also check our return policy and warranty, so that you can purchase with confidence.
Wrapping Up
Now that you have all the information you need about queen-size beds and mattresses, it's time to make the right choice for your bedroom. With Crafted Beds, you can find a variety of premium quality queen-size beds and mattresses to suit your needs and preferences.
So, don't compromise on comfort or style when it comes to your bed; choose from our range of handcrafted beds and mattresses that are designed for a restful night's sleep. Plus, with our exceptional craftsmanship and attention to detail, you can trust in the longevity and quality of our products.
Take the first step towards a better sleep experience by exploring our queen-size bed collection today!
---