Do you want your bedroom to be cosy, inviting, organized and stylish?
If so, an ottoman bed is ideal. As ottoman bed frames provide comfort and visual appeal, while offer a classic look that usually stay in style.
In this article, we'll discuss how you can find an ottoman bed that meets all your needs and make your bedroom look as elegant as it should. We'll also review some tips on making the most of your ottoman bed with headboard in terms of storage and style.
So, let's get started!
How Do Ottoman Storage Beds Work?
Ottoman storage bed works by using a large storage compartment beneath the mattress. This space can store items like extra bedding, seasonal clothing and blankets. It also adds an extra layer of support for the mattress to stay firmly in place when you move around during sleep.
The headboard of the ottoman bed can also provide additional storage space and a comfortable place to lean back and relax. Some ottoman beds also feature drawers on the sides and have ottoman bases with easy side lift, providing easy access to store small items like books, magazines or remote controls within arm's reach.
What Are The Benefits Of Ottoman Bed Frames?
Here are some of the advantages of choosing an ottoman bed frame for your bedroom:
Save Space
One of the most significant benefits of an ottoman bed is that it takes up less space than other beds. The extra storage space beneath the mattress ensures that you have plenty of room for all your belongings while still leaving enough floor space for other furniture. When selecting an ottoman bed, look for one with spacious storage options to maximize your available space.
Easily Accessible Storage
With ottoman beds, you can quickly access the storage space beneath the mattress. This makes it easy access to grab something and put it away without having to move furniture around or remove items from other pieces. Many ottoman beds feature a side lift mechanism that allows you to open up the storage area with just one hand.
Versatile Ancient Appeal Design
Ottoman beds also provide a distinctive style that blends modern and classic design elements for an eye-catching statement piece in any bedroom. Upholstered ottoman beds offer a unique way to combine comfort and function, providing versatile seating and a sophisticated touch to any room.
Easy To Move And Clean
Ottomans are incredibly easy to move and clean, making them the perfect choice for quick and simple storage solutions. The bed can be lifted with minimal effort and stored away in a corner of the room or used as a functional piece of furniture, such as a bench. The fabric is also easy to clean and maintain, which makes the ottoman bed an ideal choice for busy households.
7 Best Ottoman Beds With Headboards Available In Uk
Here are some of the best ottomans beds with headboards available in the UK:
1.Lyle Panel Wing Bed Frame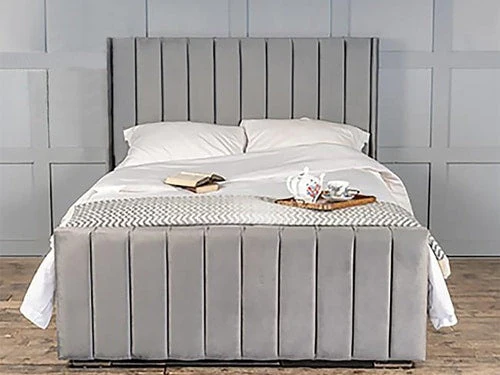 The Lyle Panel Wing Bed Frame by crafted beds is a sophisticated and elegant piece of furniture that delivers both style and functionality. It is designed to cater to the needs of those who are looking for an ottoman bed with ample storage space. This ottoman bed is constructed with high-quality solid wood and plywood, which is not only durable but also provides robust support for comfortable sleep.
One of the standout features of the Lyle Panel Wing Bed Frame is its ample storage capacity. This ottoman storage bed comes with four spacious drawers at the foot end of the bed, providing ample storage space for all your stored items, including blankets, pillows, bedsheets, and clothing among others.
Furthermore, the sprung slatted base of this ottoman bed frame ensures maximum support, comfort, and air circulation, providing a peaceful sleep every night. The bed's deep button detailing on the headboard gives it a timeless and elegant look, making it the perfect addition to any bedroom. The Lyle Panel Wing Bed Frame also boasts a pocket spring system, which enhances the level of comfort provided, catering to people who require unmatched comfort while sleeping.
2.Art Deco Bed Frame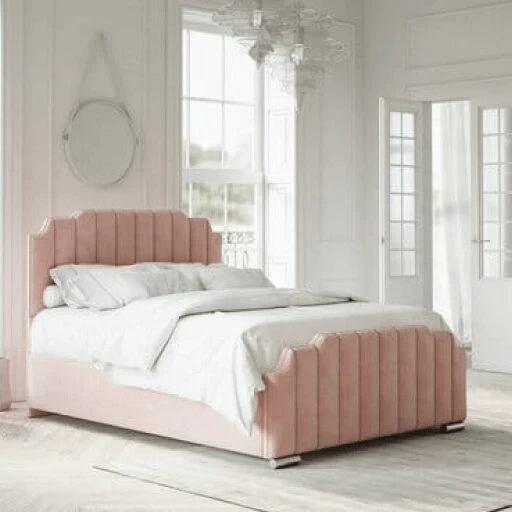 The Art Deco Wooden Ottoman Bed Frame by crafted beds is perfect for those looking to add a luxurious touch to their bedroom. Upholstered in soft velvet fabric, it features an intricate, stunning, stylish, curved silhouette. This wooden ottoman beds has a built-in headboard and footboard for comfort and support. Made from a durable mix of solid wood and plywood frames, this new ottoman bed will last you years to come.
Overall, the Art Deco Bed Frame will make your bedroom feel warm and inviting. Its velvet upholstery adds a sense of luxury to the room, while its classic look ensures it will never go out of style. Moreover, it's plenty of storage space beneath the mattress lets you keep all your belongings neat and tidy so you can enjoy clutter free home.
3.Carrington Chesterfield Bed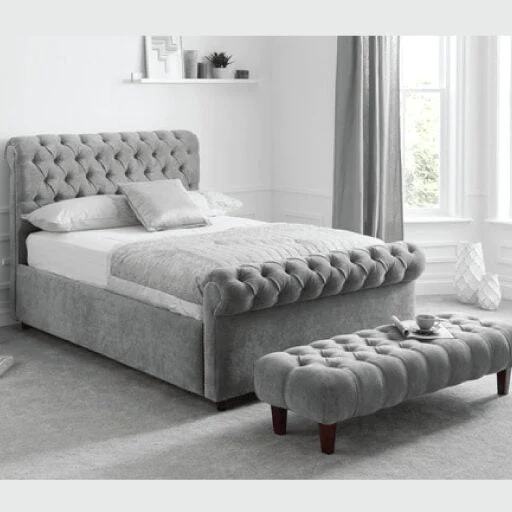 The Carrington Chesterfield Bed by crafted beds is the perfect way to save space and store items while adding an elegant touch to your bedroom. This ottoman and storage beds are made from high-quality materials, like solid oak and solid pine wood frames, for lasting durability.
It also has a sprung slatted base for maximum support and air circulation around your mattress so that you can rest comfortably.
This ottoman bed frame is upholstered in luxurious velvet fabric which gives it a classic look without being too overwhelming. Its beautiful design also features deep button detailing on the headboard which creates an inviting atmosphere in your bedroom. In addition, the Carrington Chesterfield Bed can also be used as a bench – perfect for adding extra seating to any space.
4.Kendal Bed Frame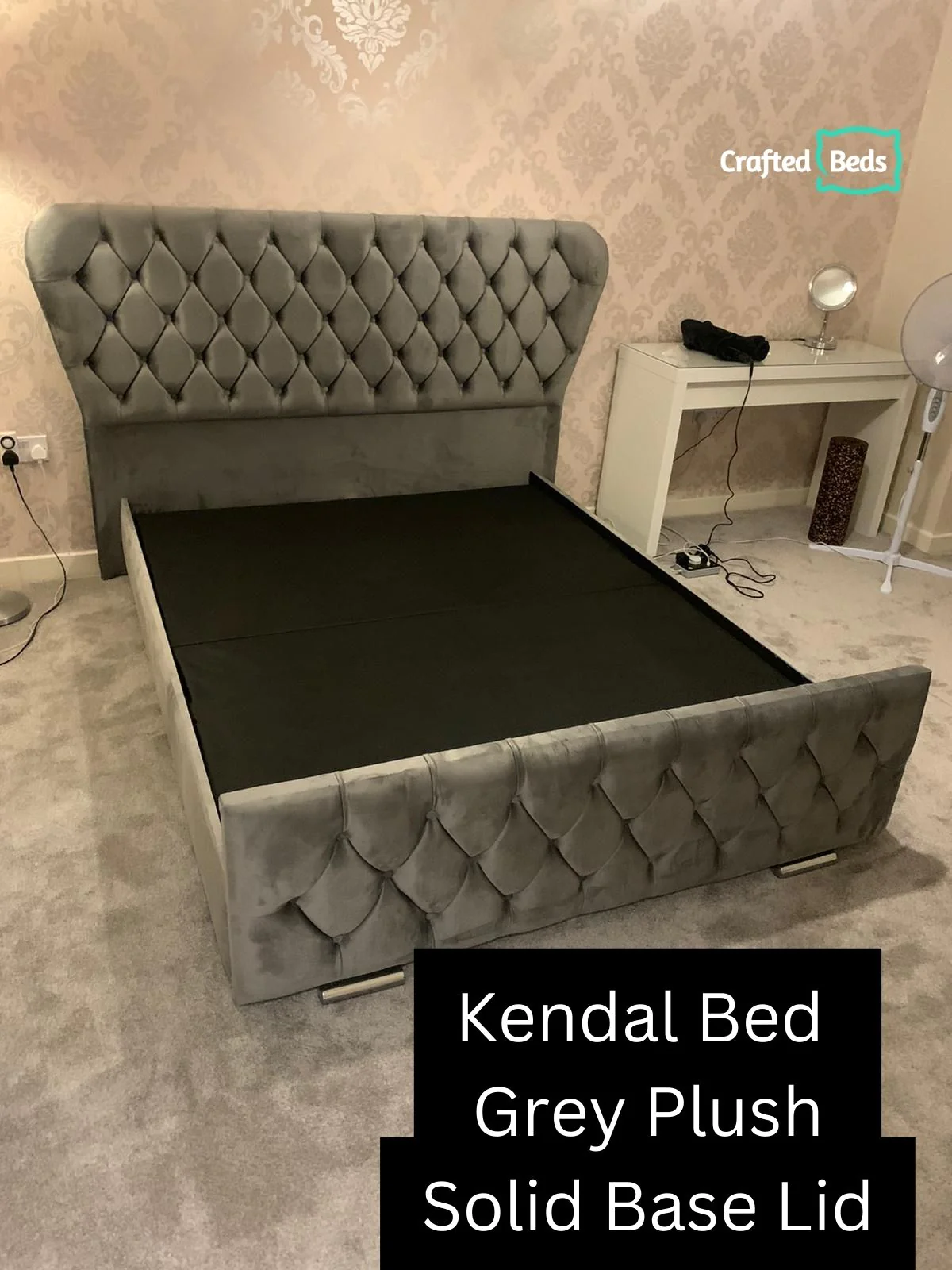 The Kendal Bed Frame by Crafted Beds is also perfect for anyone looking for a stylish and functional addition to their bedroom. As its design combines elegance and practicality which makes it ideal for those who want both style and storage in one piece. Its high-quality linen fabric covers the frame beautifully, giving it a touch of sophistication.
The frame has four drawers perfect for storing extra bedding or other items. It provides the perfect ottoman storage for small rooms, by providing plenty of room to store blankets and pillows while still having extra space for relaxing. The ottoman is easy to slide out when needed, which allows you to put your feet up after a long day.
To be honest, the Kendal Bed Frame by Crafted Beds is ideal for anyone looking to maximize storage space while still having stylish furniture in their bedroom.
5.Neva Bed
Crafted Beds has done it again with the Neva Bed Frame. This bed frame is unlike any other on the market because of its exceptional features. The Neva Bed Frame comes in three sizes- small double ottoman beds, double, and super king size ottoman beds, and boasts a large storage compartment within its base. The bed fabric is entirely hidden away which makes it a perfect option for those who like a clean and organized space.
What sets the Neva Bed Frame apart from other beds is its maximum storage capacity which is beneficial for those who need extra storage space. This ottoman bed frame has been intelligently designed to utilize all available space. It provides the perfect solution for individuals with limited space but requires maximum storage. The bed base features a large, spacious compartment, provides adequate ottoman storage for bed linen, clothing and any personal items. The Neva Bed Frame, therefore, saves space, keeps your room organized, and eliminates clutter.
The Neva Bed Frame is also made from high-quality materials, that ensures durability. It is easy to assemble, making it the perfect option for those who need help with DIY projects. You can build it with ease by following the instructions provided. You won't need to call in outside help or spend long hours figuring out how to assemble the Neva Bed Frame.
6. Apollo Bed Frame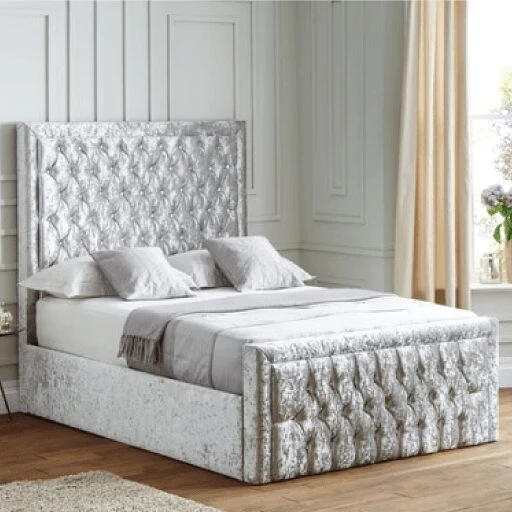 The Apollo bed frame by crafted beds is another excellent option if you want a comfortable and stylish bed. This exciting ottoman bed boasts a pebble-like design headrest that is visually appealing and incredibly comfortable with its full fabric upholstery.
One of the standout features of the Apollo bed frame is its adjustable headrests that allow you to customize your sleep experience to your comfort level. So, whether you prefer an elevated headrest or a more flat surface, this bed frame can give you the ideal angle. The hidden ottoman storage compartment beneath the headrest also lets you keep your pre-sleep rituals neat and organized.
It's avaible for all size including small, double ottoman beds to super king ottoman beds so you can choose the ideal fit according to your bedroom size.
In short, the Apollo bed frame by crafted beds is an excellent choice for those who value comfort, style, and functionality. With its adjustable headrests, hidden storage compartments, and unique design, this bed frame stands out in the market.
7.Ivory Chesterfield Bed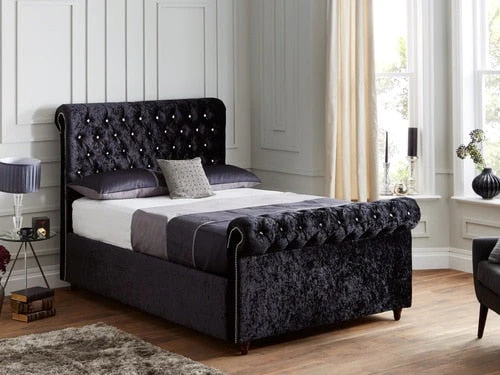 The last ottoman bed frame in our list is Ivory Chesterfield Bedwhich. It comes with a Sprung Slatted base, which provides optimal support and ensures that your child can sleep comfortably. This feature makes the bed unique as it guarantees the longevity of the bed's life cycle.
Additionally, this Ottoman Bed Frame offers an extra dimension of practicality to the bed, as it is designed to provide ample ottoman storage space. These storage beds perfect for parents who value functionality, provides extra storage without taking up valuable floor space.
Overall, the Ivory Chesterfield Bed by Crafted Beds is an astonishing piece of furniture that stands out from other children's beds. Its unique and functional features guarantee practicality, durability, and comfort for your little ones. If you are looking for an Ottoman and Storage Bed that delivers both style and substance, the Ivory Chesterfield Bed is the perfect choice.
Why Should I Buy An Ottoman Bed Online From Craftedbeds?
Here are some of the reasons why you should consider buying an ottoman bed online from Craftedbeds:
Get up to 70% Discount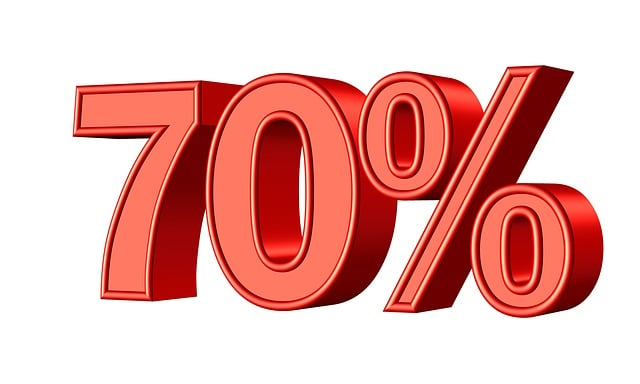 Craftedbeds offers excellent discounts on its ottoman bed frames - up to 70% off! That means you get more bang for your buck and can enjoy the luxury of an ottoman bed without breaking the bank.
Free Shipping And Delivery All Over UK
We take pride in offering fast, convenient shipping and delivery throughout the UK. Our experienced team will carefully package and ship your ottoman bed to you quickly and efficiently. That means no waiting for weeks or months - you can enjoy your new furniture fast!
24/7 Customer Support
At Craftedbeds, we take customer service seriously. That's why our friendly and knowledgeable team is available 24/7 to answer all your questions or address any concerns you may have. From ordering to delivery and everything in between, our dedicated staff will be on hand to ensure you're 100% satisfied with your purchase.
Hassle-free Returns Policy
If you're unsatisfied with your purchase, we offer a hassle-free returns policy. You can return your ottoman bed within 30 days for a full refund (minus shipping costs). That means no hassles or headaches - just one less thing to worry about when shopping online.
100% Original Products With The Perfect Finish
We proud that we sell 100% original products with the perfect finish. We understand that every bed needs to be crafted to perfection, and we take great care in ensuring that our beds meet the highest quality standards.
Variety Of Designs - Styles And Sizes Are Available
Craftedbeds offers a wide range of ottoman storage beds in all styles, designs and sizes. You can find the perfect bed for your bedroom, from contemporary to traditional. We have single, double, queen and king-sized beds available so you can choose the size that best suits your needs.
Durable Materials Used For Long Lasting Performance
Our ottomans are made with durable materials to ensure maximum comfort and durability. We use high-quality fabrics like cotton, linen, velvet, and sturdy wood frames for optimal performance.
Lots Of Satisfied Customers With Positive Reviews
At Craftedbeds.co.uk, many satisfied customers have left positive reviews about our collection. We take pride in providing high-quality products and excellent customer service to ensure customers are delighted with their purchases. Please click here to read customertestimonals yourself so you can make your purchasing decision easier.
Order Your Ottoman Bed From Craftedbeds
Now that you've learned all about ottoman bed frames, it's time to turn your dreams into reality and order your dream bed.
Our team of skilled artisans pours their utmost care and attention into every detail, ensuring that our ottoman beds are not just ordinary furniture pieces but rather a testament to sophistication and practicality. The best part is, we offer a wide range of designs, colors, and sizes which makes it effortless for you to find the perfect ottoman bed that aligns with your unique style and seamlessly blends into your bedroom decor.
We firmly believe that your sleep sanctuary deserves the highest quality and utmost style, so why settle for anything less? Order your ottoman bed from Craftedbeds today and experience the impeccable craftsmanship and unparalleled comfort that will truly bring your dream bedroom to life.
Faqs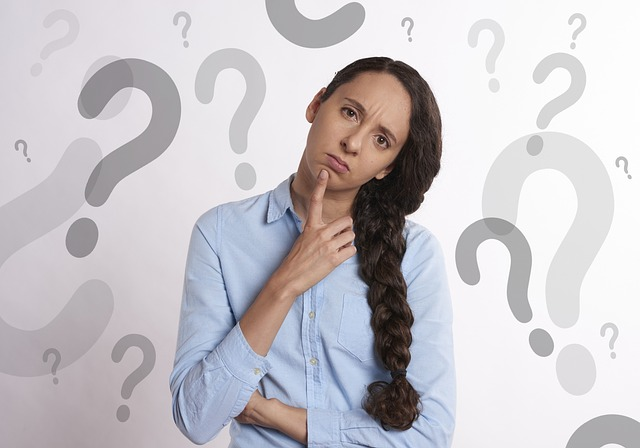 How Much Does An Ottoman Bed Cost In Uk?
The price of an ottoman bed depends on the size, design and material. Generally, a small single-sized ottoman bed costs around £200, and a king-size bed can cost up to £800 or more. You can also find great discounts and deals on our website, which make our beds even more affordable.
Is It Easy To Assemble An Ottoman Bed?
Yes, our ottoman beds are designed for easy assembly. All you need is a few essential tools and the instructions included in the package. Our team will also be happy to help if you need assistance assembling your bed.
What Type Of Mattress Is Best For An Ottoman Bed?
Memory foam and pocket-sprung mattresses are the right mattress for an ottoman bed. Both types of mattresses provide superior comfort, support and longevity. Memory foam relieves pressure points, while pocket-sprung mattresses offer excellent back support.
Wrap Up
In this article, we tried to cover all the most critical aspects of buying an ottoman bed. We explored why you should consider buying an ottoman bed from Craftedbeds and the advantages of doing so.
Hope this article helped you to decide if an ottoman bed is the right choice for your bedroom.
If you have any further questions, please do not hesitate to contact us. Our team of experts will be more than happy to help and guide you throughout the process of buying an ottoman bed. We look forward to hearing from you!
---