Choosing the Right One for Your Child can be quite a challenge. As your child grows, selecting the correct size bed and ensuring it is comfortable and safe may be challenging. When choosing a bed, consider the space available in the room and the type of mattress most suitable for your 11-year-old. As we know, younger children increase, so a bed that will last through their teenage years is ideal.
Moreover, it is essential to remember that the perfect beds for kids should have adequate support, as a poorly-supported mattress can lead to back and neck pain.
So, this guide will guide you in choosing the perfect bed for your 11-year-old. So, Let's Get Started!
Enhance The Comfort And Look Of Your Kid's Bed
As we all know, parents must ensure that their children's beds are comfortable, supportive, and appealing to encourage them to enjoy spending time in the bedroom. A child's bed should be sturdy and well-made while also being aesthetically pleasing with fun colours or designs; this has the dual purpose of providing an enjoyable sleeping experience and helping to spark their imagination. Furthermore, making sure your kid's bed is comfortable with plenty of soft pillows and a warm duvet helps them relax so they can get a good night's sleep.
So, with the right combination of style, comfort, and safety, you can create a dream-perfect bed for your child, making it easier for them to drift off into peaceful slumber.
Investing in a quality kids' bed is also essential to creating the perfect bedroom space for your child. Not only will it add to the overall look and feel of their room, but it also serves as a safe haven where your little one can come rejuvenate.
Buy A Bed Keeping Your Child's Style In Mind.
It's essential to choose a bed that will reflect your child's personality and provide them with comfort and safety. When selecting a children's bed, consider the size of the room, its layout, and any special needs your child may have. Consider whether you'd like a traditional bed with box springs and a mattress or a bed with storage drawers.
Choose a colour and fabric that matches the room's overall design and complements your child's tastes. You can also order free colour swatches from Craftedbeds.
Overall, a bed is an integral part of a bedroom – it gives your child a place to rest, play, and dream. Make sure it is both stylish and safe to give your child a particular spot of their own. This will ensure they can relax and enjoy their space for years. You can create a room with the right bed that your child will love.
Different Available Beds For Kids
There are different available kids' beds for boys and girls. Beds are essential to a child's transition from toddler to teen. Let me show you some basic types of beds that you can use in your kids' bedrooms.
Trundle Beds
A trundle bed is an excellent option for parents looking for a luxurious feel for their children. It consists of two beds, typically twin or full size, stacked one on top of the other, with the lower bed wheeled on castors so it can be pulled out and used as needed.
This makes it ideal for sleepovers or overnight guests, as well as for helping children make the transition from crib to bed. It's also an excellent option for older kids who want their own space but may need more room or budget to fit two beds in their kids' bedrooms.
Cabin Beds
Cabin beds are a great option for tight spaces, as they are elevated off the ground and often have a built-in ladder or stairs. These beds usually feature drawers or shelves that can be used for storage solutions. They are also ideal for children transitioning from a cot to a larger bed, as they provide some of the security and familiarity of a cot but with more space.
Cabin beds can create an imaginative play area in the bedroom while freeing up valuable floor space. Plus, there is no need to worry about replacing furniture as your child grows older - a cabin bed can usually accommodate up to a double mattress, giving the kid's room plenty of space to grow.
Bunk Beds
Bunk Beds are the classic choice for space-saving solutions in children's rooms. Bunk beds can be separated into two single beds, and many models have storage drawers or shelves built in below the bottom bunk. This makes them an excellent option for kids transitioning from a crib to their first bed, and they can be used in tight spaces with limited floor space.
Bunk beds make it easy to fit two children into one bedroom while allowing each of them plenty of room to grow. They also create an opportunity for imaginative play as kids age, creating a cosy den under the top bunk and drawers in the bottom bunk. With stylish designs and bright colours, bunk beds can add fun to any bedroom. Whether you're looking for an easy transition from crib to bed or need more space in your child's room, bunk beds are a great option.
Pro Tip
For the 11 years older kids, a single bed can work well.
Single Beds
Single beds are great for children transitioning from cribs to larger ones. These beds are ideal for kids to sleep comfortably, as they are generally narrower and shorter than double beds. Single beds take up less floor space in their room. 
For your kid, you can opt European Single kids' beds as these beds have plenty of storage options, such as built-in drawers or trundles underneath the bed frame. These beds are perfect for consolidating toys and clothes.
In short, Craftedbeds' Single beds are ideal for those who prefer sleeping solo or parents looking for an affordable yet practical option.
Let's Explore Crafted Beds Top Rated Single Beds Collection
Let me give you an overview of a few of the single beds offered by crafted beds. So you can decide which bed will be best for your child.
Ivory Chesterfield Bed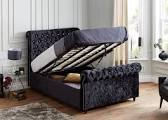 As parents, we all want the best for our children, especially for a good night's sleep. That's why choosing the right bed for your 11-year-old is crucial. But with so many options available, it can be overwhelming to make the right choice.
That's where we come in. Craftedbed's introducing our elegant child bed, the "irony Chesterfield bed, "with an exclusive quilted back head. The bedhead and frame are upholstered with high-quality washable textiles in a timeless ivory colour, making it functional and stylish. Crafted from sturdy wood and furniture board, you can be assured that this bed will last for years to come.
One of the unique features of this bed is the optional box storage. This feature allows you to conveniently store bedding under the mattress, saving space in the room and providing your child with a clutter-free kid's bedroom.
However, with the timeless design and high-quality material of our child's bed, you can be assured that your child will have a comfortable and supportive sleep, night after night.
Monaco Divan Bed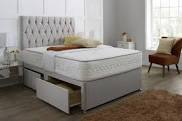 When choosing the best bed for your 11-year-old child, it is also essential to consider both functionality and style. While your child may have their heart set on a particular design or theme, it is crucial to prioritize safety, comfort, and durability.
 The Monaco Divan bed is an excellent option for parents looking for a high-quality, stylish bed that their child will love. With its Chesterfield design headboard and footboard, this bed will make a statement in any bedroom. Plus, its plush velvet finish is not only soft and comfortable but easy to clean as well.
Regarding headboard options, the Monaco Divan bed offers two distinct choices. The free 24" headboard is an excellent choice for those looking for a more traditional design, as it sits just above the mattress and connects to the bed via wooden struts.This option is measured 24" from the top of the mattress, providing a comfortable and supportive backrest for your child as they read, watch TV, or simply relax in bed.
Capri Bed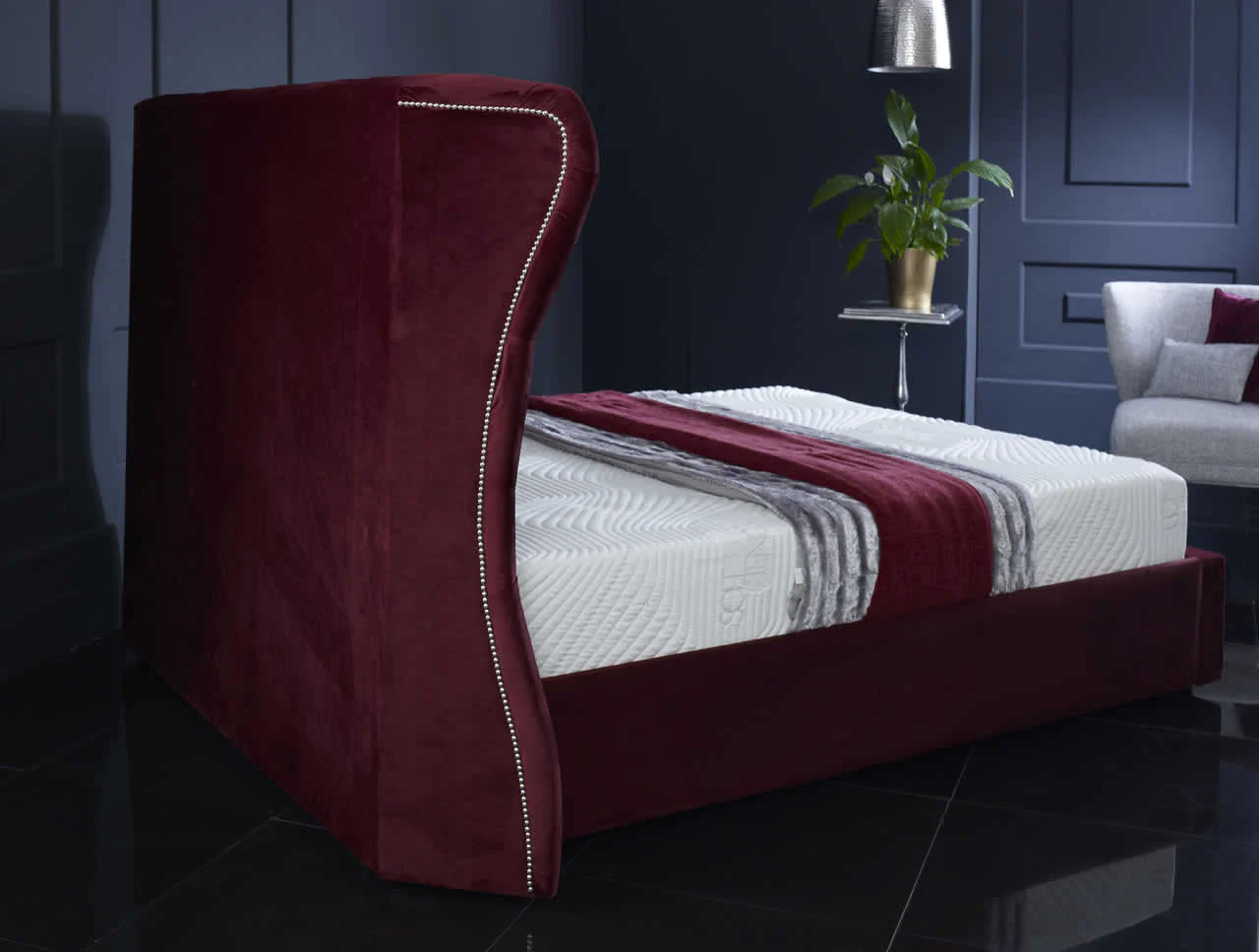 When choosing a bed for an 11-year-old, one must consider their preferences and needs. The Capri bed is perfect for children who value simplicity and elegance. With its smooth and simple lines, this bed exudes a sense of serenity and calmness that is perfect for a peaceful night's sleep.
The Capri bed also offers a customizable headboard frame and interior, allowing your child to express creativity and individuality. Whether they prefer the smooth and uniform look or the more textured and detailed caption, this bed can be tailored to their unique styles and preferences.
How To Find The Right Bed At The Right Price?
Worry not! If you're looking to buy a bed for your kids, it's essential to consider the child's age, size, and sleeping habits before selecting a mattress. Start by measuring your space in their room – this will help narrow your search. When shopping around for high sleeper beds, look at what features they offer, such as storage or additional space for things like toys and books.
Consider the bed style - do you prefer a traditional look or something more modern? Other practical elements include mattress size and type – choose one that's comfortable and supportive so they can get a good night's sleep. Finally, don't forget to factor in the price. Compare beds from different stores and brands to find the best deal for your budget.
The good news is, Craftedbeds also offer the best beds at affordable prices. We guarantee that we provide the best beds at affordable prices. We also provide a 70% discount, so you can buy a bed for your kid that they will love without breaking the bank.
Some Major Things To Consider Before Buying A Bed For Kids
Parents should also know a few things before buying a bed for their kids. Some of the common factors are:
Safety
As we all know, Safety is a top priority for parents regarding their children, and investing in a kid's bed is a great way to provide peace of mind. Children's beds are designed with high sides that can help protect your child from falls during the night. They also offer extra space, so you don't have to worry about your little one getting tangled up in blankets and sheets while they sleep. Kids' cabin beds are also designed specifically for children, providing optimal comfort and support for your child's growing body. Investing in a kid's bed is an excellent way to ensure that your little one enjoys nights of sound, safe sleep.
Comfort
Comfort is essential to any child's bed, especially for toddlers just starting to sleep in their beds. Children's beds provide a safe and secure environment that gives kids plenty of space to move around while also allowing them to feel comfortable and relaxed. The beds are designed to be low enough for easy access, with soft cushioned mattresses that provide support and comfort throughout the night.
The mattress is often also supported by a frame or bed base that helps keep it in place. The low height also helps create a feeling of security for children as they transition into their beds. Additionally, the raised edges on many toddler beds help to keep kids from falling out at night. All these features come together to provide toddlers with a safe and comfortable environment that allows them to settle down quickly and easily.
Size
Size does matter when selecting the right bed for your child. When shopping for a kid's bed, you must consider the size of the bedroom but also the size of your child. A twin-size bed is suitable for children ages 4-6. A single bed is appropriate for children ages 7-12. A single bed bed is ideal for teens. For an infant, a crib is the best choice.
Remember that you will need to buy a mattress for each of these beds, so be sure to measure both the bed frame and the mattress so that it fits appropriately into your child's bedroom. Additionally, bunk beds are a great space-saving option for siblings, and trundle beds can be a great option if you need to accommodate an extra overnight guest. Whatever bed size you choose, make sure it fits your child's needs while leaving plenty of room for activities in the bedroom.
Durability
When it comes to selecting a kid's bed, durability is critical. Kids can be hard on furniture, so you must ensure your chosen mattress supports their activity and growth. Look for beds made with solid wood, metal, or composite materials that will last years of use. Additionally, look for scratch-resistant finishes, rounded corners, and reinforced bed rails to ensure your child's safety. Also, make sure the bed you choose has a warranty from the manufacturer so you can be confident that it will withstand your child's wear and tear.
Styles
There are a variety of styles to choose from, including traditional modern or even themed beds that feature themes like cars, princesses, and superheroes. You can also find more unique options, such as loft, bunk, trundle, and futons, to help maximize your child's bedroom space. Ultimately, it would help if you chose the mattress that best reflects your child's personality and interests and the overall aesthetic of their bedroom.
FAQS
Now we have a complete command of the topic. Let's discuss common faqs so you can get the best idea in taking a buying decision:
What Mattress Should I Get For An 11-Year-old?
When choosing a mattress for an 11-year-old, a medium-firm hybrid option is great. It offers the perfect balance of comfort and support for growing bodies. Look for a mattress that provides good motion isolation, as restless sleepers may wake up their siblings. Also, ensure that the mattress is made from high-quality materials to last throughout the child's teenage years.
How Do I Choose A kids' Bed That Last For Years?
When choosing a bed for an 11-year-old, look for a durable frame of solid wood or metal. Make sure the mattress is supportive and comfortable to ensure your child gets a good night's sleep. Furthermore, consider any additional features you may need, such as built-in storage or adjustable headboards.
What Accessories Should I Get For An 11-Year-Old's Bed?
When shopping for a bed, it's essential to consider any additional accessories you may need. Popular accessories include bedding, pillows, headboards, footboards, and mattress toppers. Depending on your bed type, you may need additional items such as bed rails or ladders for bunk beds and wooden kids' beds.
WRAP UP
When looking for the perfect bed for 11-year-old boys, it is essential to consider their size, growth potential, and preferred style. A kid's bed should be comfortable and safe, with plenty of space for them to move around without feeling cramped. It also needs to provide enough support for a good night's sleep.
The girls' and boys' beds can be stylish and functional with suitable materials and construction. And By considering their needs, providing enough room, and choosing quality materials, you can find Beds for 11-Year-Olds that will last them for years.
Furthermore, if they need more space, plenty of bunk bed options are available to choose from that will provide the ultimate comfort and convenience. Whatever the choice, a bed for an 11-year-old can be stylish and comfortable and provide years of great sleep. For parents, it is worth investing in a high-quality kids' bed that will last many years.
We hope you've got all...
Now, it's time to stop thinking and start acting. Go ahead, and explore our Craftedbeds collection.
---