Is searching for the perfect bed for your girl's room becoming a frustrating challenge?
Don't worry; we've covered you with our list of the 5 best bed solutions for girls.
We understand that finding the right bed that combines comfort, style, and functionality can be overwhelming.
That's why we've carefully curated this selection to address the common problems you may face when searching for a bed for girl.
So, say goodbye to the headache of endless browsing and let us guide you towards the ideal bed solution that will make you and your girl happy.
Let's get started!
Welcome, The Magic of A Little Girls' Bedroom
Parents of little girls know that a bedroom is a special place for their daughter, and this special space deserves to be designed with thought and care.
The girl's beds should be a cosy spot to rest and relax after long days of playing and learning, but it should also express who she is as an individual.
So, with the right bedroom furniture details, such as colourful bedding, fun prints, stunning bedroom furniture and unique decorations, parents can bring the magic of a little girl's bedroom to life. It will be her cosy haven for rest and relaxation and a place where she can be herself and explore her creativity.
So, designing this special space is an opportunity to create something magical that speaks to your daughter's unique personality. Because it's a perfect place to explore, grow, and create lasting memories.
Use Subtle Colour Schemes To Encourage Creative Thinking
Using subtle colour schemes, such as muted blues and greens, is ideal for creating a peaceful atmosphere while encouraging creative thinking.
Using colours that don't dominate the space allows you to open up your mind and stimulate your creativity without feeling overwhelmed by bright colours.
For example, in A Girl's Bedroom, you could use a soft blue-green combined with subtle hints of pink and other light colours. This combination of colours will create an atmosphere that encourages creative thinking without being distracting or overstimulating.
So, by utilizing subtle colour schemes in your home, you can create a tranquil environment that encourages creative thinking without being overwhelming.
So, don't be afraid to get creative and choose the perfect colour combination for your home decor. It's sure to create an atmosphere that is both calming and inspiring!
Incorporate Fun & Functional Storage Solutions.
Every bedroom needs storage, but you don't have to settle for boring plastic bins and shelves. Incorporating fun and functional storage solutions can add personality and style to the room.
A great option is a girl's bed with inbuilt drawers or cupboards, which provide plenty of space for clothes, toys, and more – plus, they look super cute too!
You could also opt for decorative wall shelves, hanging baskets, or fabric cubes – all of which can be used to store items attractively and practically.
Don't forget about the floor either; a cool storage trunk or ottoman can help keep things organized while adding a touch of character to the room.
Make It Personal - Add Personal Touches To Show Off Your Little Girl Personality
Once you've got the basics in place, it's time to add some personal touches that will make your little girl's bedroom her own. Consider what makes her unique and find ways to incorporate these things into the room.
A monogrammed wall decal or a framed portrait of her favourite animal are perfect ways to add a personal touch while still keeping it stylish.
You could also look for accessories that match her passions and interests, from art prints to wall hangings or throw pillows in fun shapes and patterns – the possibilities are endless! Adding layers of personal items will help create an inviting space where she can feel truly at home.
Finally, don't forget to have fun with colour! If daring, you could use bold paint or wallpaper to create an eye-catching feature wall. But if your little girl's style is more subtle, soft and muted tones can still make a big impact – plus, they look great in photos too.
Whatever your approach, the most important thing is to enjoy the process and make it personal – that way, you can create a uniquely special bedroom for your little girl.
Choose Versatile Decorating Pieces That Will Grow With Your Little Princess
Opt for items that will grow with your child when shopping for decor pieces. A girl's bed is a great way to start; most beds come in various sizes that can accommodate younger children up to young adults.
Also, look for girls' bedroom furniture, such as desks and dressers, with plenty of storage space. When it comes to wall decor, choose pieces that can be easily updated as she grows.
For example, select wall stickers or growth charts that can be changed to reflect her current age. Incorporating these versatile decor pieces into your little princess's room will ensure it grows with her as she ages.
Invest In Quality Bedding & AMP; Pillows To Help Create A Cozy Haven
Creating a comfortable sleeping environment is essential for a good night's sleep; investing in quality bedding and pillows can go a long way.
Opt for natural materials like cotton or linen sheets, as they are soft and breathable, which will help keep you cool during the night. For girls' beds, quilted bedspreads can be a great way to add texture and colour while providing an extra layer of warmth.
Additionally, selecting the right pillows is essential for comfort and support; memory foam options are especially beneficial as they will contour to the shape of your body for maximum comfort.
In short, you have a perfect solution for your little girl with just a few simple tweaks. Investing in high-quality bedding and pillows will go a long way in helping her to get the peaceful rest she deserves.
Showcase Examples Of Beautiful And Creative Girls' Bedrooms From Around The World
Girls' bedrooms offer a huge range of combinations of Fun, creativity, and style. Whether it's a boho-inspired space with bright colours and bold patterns or an elegant yet whimsical room that evokes all the charm of a classic childhood fairy tale, there is something for everyone to enjoy in these examples of truly stunning spaces.
From cosy nooks to expansive open-air design, these beautiful and creative bedrooms embody warmth, comfort, and originality.
Whether you're looking for inspiration for your daughter's room or appreciate the beauty of artistry put into interiors, these showcase examples are sure to provide plenty of ideas and an endless source of awe.
From traditional furnishings to the latest trends, these bedrooms make any girl feel like a princess. So step inside and explore the possibilities of creating a beautiful and creative bedroom that your daughter will love.
Design Ideas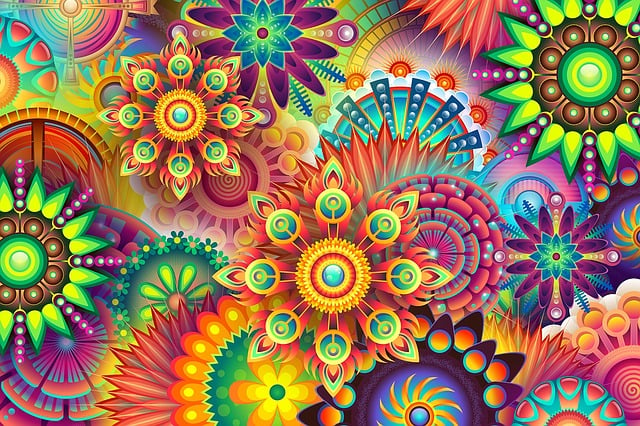 Some ideas can enhance your little girl's room.
Style
Princess style is the most preferred one. It may feature a canopy bed topped with a lace-embellished canopy and cascading sheer curtains, an ornate vanity table for her precious trinkets, and even a delicate chandelier hanging from the ceiling to create a royal atmosphere.
Themes
Many girls' rooms, such as butterflies or unicorns, feature a specific theme. Decorative wall art, throw pillows, and bedding with these motifs will be perfect for the room. Other popular themes include nature scenes, fairytales, and princesses.
Colours
Colours can have a powerful impact when decorating a girl's room. The colours you choose for the walls, furniture, and accessories all contribute to the overall look and feel of the space.
Choosing warm tones like yellow, pink, or orange can create a cosy atmosphere that's inviting and comforting; cool colours like blue, green, and purple can create a sense of calm and relaxation.
Before deciding on the right colours for her room, consider what activities she typically engages in there. Many girls enjoy reading, so a soft, muted blue might be best; bright yellow is an ideal choice if she loves drawing or painting.
Additionally, there is a huge range of colours. Think about how the colours will transition as she ages; you'll want to ensure her room remains a space she's proud of! Selecting the right colours for your daughter's room can be fun and creative.
Types Of Beds
Here are a few types of beds you can opt for decorating your kids or girls' bed:
Trundle Beds
A trundle bed is an excellent option for parents looking for a luxurious feel for their children. It consists of two beds, typically twin or full size, stacked one on top of the other, with the lower bed wheeled on castors so it can be pulled out and used as needed.
This makes it ideal for sleepovers or overnight guests, as well as for helping children transition from crib to bed. It's also an excellent option for older kids who want their own space but may need more room or budget to fit two beds in their kids' bedrooms.
Cabin Beds
Cabin beds are a great option for tight spaces, as they are elevated off the ground and often have a built-in ladder or stairs. These beds usually feature drawers or shelves that can be used for storage solutions.
They are also ideal for children transitioning from a cot to a larger bed, as they provide some of the security and familiarity of a cot but with more space.
Cabin beds can create an imaginative play area in the bedroom while freeing up valuable floor space. Plus, there is no need to worry about replacing furniture as your child grows older - a cabin bed can usually accommodate up to a double mattress, giving the kid's room plenty of space to grow.
Bunk Beds
Bunk Beds are the classic choice for space-saving solutions in children's rooms. Bunk beds can be separated into two single beds, and many models have storage drawers or shelves built in below the bottom bunk.
Bunk beds make it easy to fit two children into one bedroom while allowing plenty of room to grow. They also create an opportunity for imaginative play as kids age, creating a cosy den under the top bunk and drawers in the bottom bunk.
With stylish designs and bright colours, bunk beds can add Fun to any bedroom. Whether you're looking for an easy transition from crib to bed or need more space in your child's room, bunk beds are a great option.
5 Best Girls Beds Suggested By Craftedbeds
Now, you've got plenty of ideas about creating your girls' bedroom like a princess. Let us discuss our top choice to make your decision easier:
Art Deco Bed Frame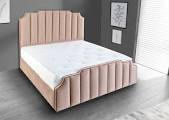 As experts in the field of sleep quality, we understand the importance of a comfortable and stylish bed, especially for young girls who want to feel like a princess as they drift off to sleep.
Our Art Deco bed frame is a top pick for its unique and elegant design that adds a touch of glamour to any bedroom. Crafted with high-quality materials, this bed frame ensures a luxurious sleep experience and durability for years to come.
But that's not all; our collection features many single beds for different tastes and preferences. From the classic and sophisticated upholstered bedroom furniture to the whimsical and playful canopy bed frame, every girl can find her dream bed in Craftedbed's bed collection.
Barron Chesterfield Bed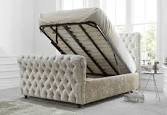 Our top pick is none other than the Barron Chesterfield bed. The unique fashion and style of this big bed have taken the bedrooms of our customers to new heights and have been reviewed positively by our satisfied customers across the board.
Its sturdy base and secure Headboard ensure that you have a comfortable and supportive base for any of our high-quality mattresses.
But that's not all - the Barron Chesterfield bed epitomizes sophistication with its elegant tufted details and luxurious velvet upholstery. Aesthetically pleasing and practical, this bed is ideal for any girl who wants to sleep like royalty.
Diamond Divan Bed + Headboard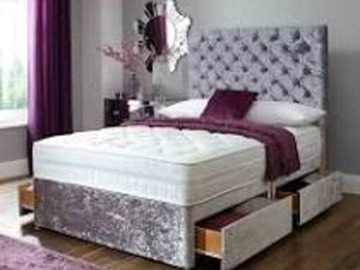 If you're looking for a bed fit for a princess, look no further than the Diamond Divan Bed with a Solid Platform Top. It's a perfect choice. Made with a solid timber frame, this bed provides exceptional support for all mattress styles and can support a maximum user weight of up to 50 stone when combined with the mattress.
This top-of-the-line bed base is the perfect foundation for a princess-worthy sleeping experience, with a ready-built foundation that easily clips together with simple U-clips. In addition, it comes in a wide range of fabric colours, so you can choose the perfect hue to match your princess-inspired decor. You can also order the free colour swatches from Craftedbeds to get a more clear idea.
In this bed, storage options are also available for those princesses who require ample space to store their treasures. So, this bed would be the best choice for your children's beds.
Neva Bed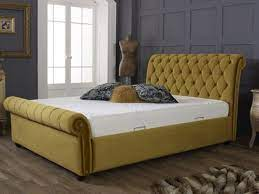 If you're on a mission to create the ultimate princess fantasy bedroom for your little girl, then the Neva bed can be a good choice. This luxurious bed is upholstered in your choice of grey or blue velvet-finish fabric, adding a touch of elegance and sophistication and providing unparalleled comfort for a good night's sleep.
But this bed isn't just a pretty face - it's also practical and functional. The Neva Bed offers a solid baseboard ottoman storage, providing ample room for your little one to store all her bed linens, stuffed animals, toys, and other treasures. And with an end-opening ottoman for storage, accessing those items has never been easier.
The Neva bed's geometric quilted Headboard is a standout feature that will make any little girl feel like royalty, and it can be used for more than one child. Its eye-catching design adds a modern flair to the traditional princess aesthetic. And with an internal storage depth of 25cm, this bed offers plenty of room for your child's bedtime essentials.
Lilly Luxury Bed Frame By Oliver And Sons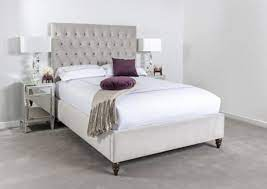 Regarding luxury bed frames fit for a princess, the Lilly bed by Oliver and Sons reigns supreme. This single bed's opulent design flaunts a sophisticated silhouette, complete with a delicately curved headboard and upholstered catches that add a touch of glamour to any bedroom.
As experts in luxury bed frames, Oliver and Sons have solidified their reputation as masters of the art form. Their outstanding designs have won them praise in the industry, and it's easy to see why. Every Oliver and Sons bed is a masterpiece in its own right, with jewelled headboards and exquisite details that take sleep time to a whole different level.
Ultimately, if you're seeking a bed fit for a princess, the Lilly bed by Oliver and Sons is a clear choice. This design captures the essence of luxury living, providing an indulgent escape that lets you sleep like royalty every night.
FAQS
What Size Bed Should I Get For My Daughter?
The size of bed you should get for your daughter will depend on their age and how much room they need to sleep comfortably. Most twin-sized beds are suitable for children up to 10 years old, whereas small or double-sized beds may be more appropriate for older girls.
What Features Should I Look For In A Kids Bed?
When shopping for kids' beds, it's important to ensure that whatever you choose is safe and comfortable. Look for beds with supportive mattresses with adequate padding, guardrails, or other safety features for younger children.
Are There Any Special Considerations For Purchasing Kids' Beds?
It's important to ensure your child's new bed is safe and comfortable. Look for a children's bed with guardrails or other safety features, if possible, and check the frame's material and durability before making your purchase.
Wrap Up
To sum up, if you're looking for the perfect bed for your little princess, you can't go wrong with any of the seven options featured here. The reason behind these beds is not only aesthetically pleasing, but they are also comfortable and safe for your little girl.
Whether you're looking for something luxurious or want a classic design to fit any room, Crafted Beds' will surely cover all your needs. So let your little girl sleep like a princess in one of these amazing kids' beds, or browse our collection to find something more that suits your girl's personality! 
---