Creating a personal sanctuary in your bedroom is an important step towards achieving restful sleep and relaxation. Decorating your space to fit both your aesthetic preferences and functional requirements can help you create the ultimate bedroom retreat.
The bed you choose can be a major factor in how comfortable and inviting your room feels. Not only should it provide comfort, but it also has the power to transform your space into a beautiful haven.
So, to help you upgrade your bedroom decor, this article will explore the latest trends in beds and offer expert advice for selecting the best bed options to buy. So, without further ado, let's uncover what it takes to create the perfect bedroom!
Best Bed Options for Room Decor in 2023
Before moving ahead, let's take a look at the different types of beds that are available in the UK market:
Platform Bed
The minimalist style of platform beds makes them ideal for modern and contemporary decor. This type of bed typically has a low-profile wooden base, so it sits close to the ground and does not require a box spring. Platform beds are often paired with sleek mattresses to create an uncluttered look that is ideal for lofts and small bedrooms.
Additionally, platform beds typically have storage options beneath the base, making them a good choice for those looking to maximize their space. This type of bed is also easy to clean and maintain, making it a popular choice for busy households.
Divan Bed
Divan Bed is another popular platform bed option. Unlike traditional platform beds, divan beds are larger and more luxurious, often featuring a headboard for added visual appeal. Generally, divan beds also have a padded top to provide extra comfort for the sleeper and are available in a wide range of upholstery options. They are perfect for larger rooms but can also be used in smaller spaces if the design is chosen carefully.
Sleigh beds
The elegance and sophistication of sleigh beds make them a popular choice for many homeowners. As the name suggests, these beds feature an arching headboard and footboard design, which provides the illusion of a sleigh being drawn along.
The curved design makes them appear much larger than their actual size and can make any bedroom appear more inviting. Sleigh beds typically feature solid wood construction, making them a great choice for those looking to invest in a quality bed.
And the best part is Craftebeds' sleigh beds also come in a wide range of styles and colours, so you're sure to find one that fits your taste and decor. Sleigh beds are also a great option for those looking for more storage. Many of our beds feature built-in drawers or storage compartments to keep your bedroom neat and organized.
Ottoman Beds
Ottoman beds are a great choice for those looking for extra storage and style. Their unique design features a base that lifts up to reveal generous storage space beneath the mattress, allowing you to keep your bedroom neat and tidy.
They also come in various styles and sizes, so you're sure to find one that fits your taste and decor. Ottoman beds are also a great option for those with limited space, as the added storage space is perfect for storing seasonal clothes, linen and other bedroom items.
In addition to being practical, ottoman beds can add a touch of luxury and elegance to your bedroom with their upholstered headboard and footboard.
So an ottoman bed is a perfect choice if you want to create a beautiful and comfortable bedroom. With its stylish design and practical functionality,
Chesterfield Beds
If you're a minimalist fan and you prefer modernity over luxury, then Chesterfield beds are the perfect option for you. Their clean, elegant lines and simple designs make them a classic choice for any bedroom.
Furthermore, the deep buttoned headboard and foot end create a luxurious feel, and their sprung slatted base ensures maximum comfort.
Our Chesterfield beds also come in a variety of styles, materials and colours to suit any decor, and the ottoman storage option offers extra space to store bedding or other items. So, choose Chesterfield beds to bring sophistication and practical functionality to your bedroom. With their timeless design, you'll surely enjoy them for many years.
Winged Beds
The Winged beds are originally derived from traditional gift seats created in England during the 1600s. In time, they have evolved to become the beloved centrepiece of many bedrooms today.
Winged beds' stunning design is unique and instantly recognisable, with their classic wings delicately created with rounded edges, making them a charming addition to any bedroom.
Moreover, these beds are individually crafted and upholstered with luxurious, high-quality materials that will bring extra comfort and elegance to your bedroom. With their timeless design, you can be sure to enjoy your winged bed for many years to come.
Our 7 Top Best Beds to Buy in UK
It's time to share our top picks for the best bed in the UK. Here are our top 7 picks to help you create a stunning centrepiece for your bedroom:
Ivory Chesterfield Bed
If you're looking for the perfect statement piece to complete your bedroom. You might want to take a closer look at the Ivory Chesterfield Bed by Craftedbeds. This elegant and stylish bed frame is a modern take on the classic Chesterfield design, and its ivory leather upholstery and sleek, minimalist lines make it a great fit for any contemporary bedroom.
Its impeccable attention to detail sets the Ivory Chesterfield Bed apart from other bed frames. Every inch of this bed frame is meticulously crafted, from the hand-tufted headboard to the solid hardwood frame and slats. The bed is upholstered in high-quality leather, which looks great and provides a comfortable and supportive surface for sleeping.
One of the things we love most about our Ivory Chesterfield Bed is its versatility. Whether you're looking for a bold statement piece for your bedroom or want to create a more understated, minimalist look, this bed frame can do it all. It's available in a range of sizes, including single, double, king, and super king, so you're sure to find the perfect fit for your space.
Overall, we highly recommend the Ivory Chesterfield Bed by Craftedbeds. It's a beautifully crafted piece of furniture that's as functional as it is stylish. Plus, with Craftedbeds' commitment to quality and attention to detail, you can be sure that this bed frame will last you for many years to come.
Craftedbeds' Capri Bed is a stunning piece of bedroom furniture that is both stylish and comfortable. This bed features a contemporary design with clean lines and a subtle elegance that complements any bedroom decor.
One of the best things about the Capri Bed is how well it is crafted. It is made from high-quality materials and has a sturdy frame that ensures durability and longevity. The bed frame is upholstered in soft-to-the-touch fabric, which looks luxurious and feels great against your skin.
Another great feature of the Capri Bed is how comfortable it is. The padded headboard provides excellent support for your head and neck while you're reading or watching TV in bed. The comfortable mattress will give you a restful night's sleep, making it an excellent investment in your overall health and well-being.
Our Capri Bed is also available in a range of sizes to suit your specific needs. So whether you're looking for a single, double, king, or super king, we've something that will fit your space perfectly.
In short, the Capri Bed by Craftedbeds is an outstanding piece of furniture that combines style, comfort, and quality. If you're in the market for a new bed, the Capri Bed is definitely one worth considering.
The Carrington Chesterfield Bed is another true masterpiece of craftsmanship by Craftedbeds. Featuring a classic design with elegant button tufting, this bed is perfect for those looking for a touch of sophistication in their bedroom. The sturdy frame of the bed is made of solid wood, ensuring durability and longevity.
One of the standout features of the Carrington Chesterfield Bed is its plush, velvet upholstery, which is available in a range of stunning colours. This adds a luxurious element to the design, making it perfect for creating a lavish bedroom space. The soft, smooth feel of the velvet is sure to provide the utmost comfort for a peaceful night's sleep.
Craftedbeds have also paid attention to every detail in making this bed. The hand-crafted button tufting adds a touch of glamour and keeps the upholstery in place for years to come. The wooden legs of the bed are also designed with precision, ensuring the perfect balance for the bedframe.
The Carrington Chesterfield Bed by Craftedbeds is a beautiful piece of practical furniture. It is available in all standard UK sizes, making finding the perfect fit for any bedroom easy. The high headboard allows for comfortable sitting up in bed, making it ideal for reading or watching TV.
Overall, the Carrington Chesterfield Bed by Craftedbeds is a fantastic investment for anyone looking to upgrade their bedroom decor. Its style, comfort, and practicality make it a top pick for those who appreciate quality craftsmanship and design.
Kendal Bed Frame
The Kendal Bed Frame manufactured by Craftedbeds is an excellent choice for consumers looking for both style and comfort. Because Craftedbeds has used quality materials to create a bed frame that is both durable and aesthetically appealing. The Kendal Bed Frame has a classic design that will complement any bedroom decor.
This bed is made from solid timber, which makes it sturdy and long-lasting. The frame also has a slatted base, ensuring maximum mattress support. The slats have been spaced evenly to provide better air circulation around your mattress. This feature helps in keeping your mattress hygienic and fresh.
The Kendal Bed Frame comes in a grey finish, giving it an elegant and sophisticated look. The bed frame has a high headboard upholstered in a soft fabric.
One of the best features of the Kendal Bed Frame is its easy assembly process. The bed frame comes with clear instructions that make it easy to assemble. You can have the bed frame ready in no time and start enjoying a comfortable and stylish sleeping experience.
Craftedbeds' Ivory Chesterfield Bed is an excellent addition to any bedroom. The Ivory Chesterfield Bed is a bed frame that exudes timeless elegance and adds a touch of sophistication to your bedroom. The bed frame is upholstered in soft velvet and has a Chesterfield-style buttoned headboard and footboard. This bed frame is also available in various sizes and colours, making it easy to match your bedroom decor.
Generally, to add an extra touch of elegance to your bedroom, consider adding Craftedbeds' Kendal Bed Frame in your bedroom so that you can enjoy a luxurious and comfortable sleeping experience.
Sierra Wing Bed Frame
After numerous hours of thorough research, we've also selected the Sierra Wing Bed Frame by Craftedbeds, which is the perfect fit for your bedroom decor.
Craftedbeds is a UK-based company which is specialised in manufacturing and selling high-quality and elegant bed frames; the Sierra Wing Bed Frame is no exception. This bed frame features a classic and sophisticated design that incorporates both traditional and modern craftsmanship techniques to produce a truly stunning piece.
Constructed with high-quality materials, the Sierra Wing Bed frame boasts a strong, sturdy wooden frame designed to last for years. This bed also includes a beautiful wingback headboard that will make your bedroom feel cosy and warm while providing support for your back and neck.
One of the best things about the Sierra Wing Bed Frame is its versatility. This bed frame also comes in various sizes, including single, double, and king size, and it can fit perfectly into any bedroom design, including contemporary and classic styles.
So, the Sierra Wing Bed Frame by Craftedbeds is an excellent investment for anyone in need of a new bed. Cause, it's stunning design, sturdiness, and versatility make it the perfect addition to any bedroom.
Bentley Bed
The Bentley Bed by Oliver and Sons, available at Craftedbeds, is another stunning piece of furniture that is designed to provide you with a comfortable and luxurious sleeping experience. This bed is hand-crafted with precision and care, using the finest materials to ensure a durable and long-lasting product.
The Bentley Bed is made from solid wood, which makes it strong enough to withstand daily wear and tear. This headboard is designed with a unique tufted pattern that adds a touch of elegance and sophistication to the overall design. The feet of the bed are also made from solid wood and are finished with a beautiful dark stain.
One of this bed's most remarkable features is its comfort level. The mattress is made of high-density foam, which ensures a good night's sleep every time. The foam also has anti-dust mite and hypoallergenic properties, making it ideal for people who suffer from allergies.
That said, the Bentley Bed By Oliver And Sons is a beautiful and functional piece of furniture perfect for anyone wanting to elevate their bedroom decor.
Shard Gold Bed Frame
The Shard Gold Bed Frame By Oliver And Sons, available on Craftedbeds, is a top-of-the-line choice for anyone looking to add a touch of luxury and elegance to their bedroom. Hand-crafted by skilled artisans, this bed frame is a testament to expert craftsmanship.
The Shard Gold Bed Frame is upholstered in plush, rich fabric that looks stunning and delivers exceptional comfort.
Its modern metal insert design to the headboard in rose gold makes it a bold statement piece that is sure to impress. Having said that, the shard gold bed combines boldness and beauty in a way that is both dramatic and exquisite.
One of the standout features of the Shard Gold Bed Frame is its Ottoman storage, providing you with ample space to store your linens and extra pillows. This practical feature sets this bed frame apart from others in the market.
Although the Craftedbeds brand offers a range of bed frames, the Shard Gold Bed Frame is undoubtedly a top choice because it brings the wow factor into your bedroom and oozes sophistication and class.
Tips For Selecting The Perfect Bed
So far, we've talked about the best beds that are the top choices of the UK people. But how do you know if it's the right bed for you? Here are some tips:
Room Size and Scale
You should always measure the space you have before purchasing a bed frame. Nothing looks worse than an oversized bed in a tiny room because it can make the room look cramped. To make sure you get the perfect fit, measure the space down to the millimetre and compare it with the size and measurements of your bed frame. That way, before buying it, you'll know if it will fit in the room.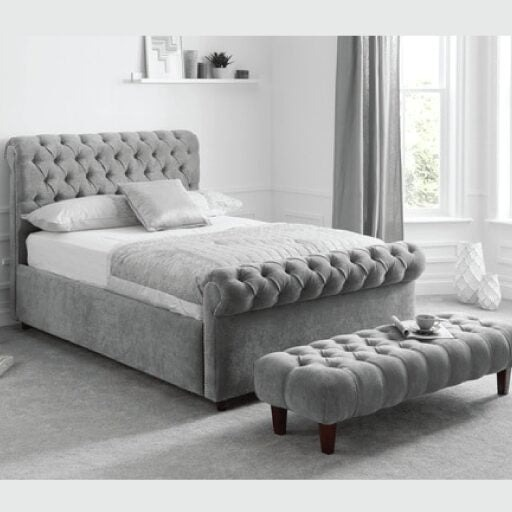 Style and Aesthetic
Another important consideration is the style and aesthetic of a bed frame. There are so many styles to choose from – traditional, modern, industrial, mid-century, etc. – that it's easy to get overwhelmed.
To narrow down your choices, consider your room's overall aesthetic and find a bed that complements it. Keep in mind the other furniture in the room, the colours and textures of your walls and floors, as well as any art or decorations you already have in the room. Doing this will help ensure that your bed frame blends seamlessly into the space.
Colour Palette and Material
Try to find colours that match the existing décor or create a complementary palette. Colours can make a room appear larger or smaller, brighter or darker, and can create different moods within a space. You can order free colour swatches at Craftedbeds to better understand all the possibilities.
After deciding on a colour, you must decide on a bed frame material. You can also take Craftedbeds' expert advice to pick the best material for your bed frame.
Functionality
Now put your intention into functionality. Does your bedframe need to be able to accommodate storage underneath, a trundle or drawers? Can it be moved easily if needed?
All these factors should be taken into account to ensure you find the best bed frame for your needs.
Craftedbeds has a wide range of bed frame options in terms of size and material to choose from, so you'll be able to find the perfect fit for your space.
FAQs
Now you've got a clear idea of what to look out for when buying a bed, let's take a look at the answers to some frequently asked questions to make your decision a little easier:
What Is The Best Bed To Buy In 2023?
The Shard Gold Bed Frame is the best bed to buy in 2023. It features a luxurious and elegant design, with strong, durable construction from high-quality materials designed to last for years. It also has adjustable height options, built-in storage drawers and a luxurious headboard with tufted detailing that will elevate any bedroom decor.
Which Bed Is Best For A Smaller Bedroom?
The Eco Divan Bed is the perfect choice if you have a smaller bedroom. It offers a modern and contemporary style that won't take up too much space while still providing comfort and support. The bed features an easy-lift mechanism, making lifting and storing items under your bed easier. So, its unique design and affordability make it a great choice for any smaller bedroom.
Which Bed Is Best For Those Who Want Luxury?
Hector Luxury Bed is your go-to choice if you're looking to give your bedroom a luxurious upgrade. This bed is crafted with high-quality materials and features a tufted headboard that will make any room look more elegant. Plus, it offers great support for those who want to experience luxury living.
Wrap Up
To summarize, bedroom decor can be taken to the next level with the right bed frame. But, without deep research and knowledge, it can be difficult to determine which type of bed is best suited for your room.
So, Craftedbeds has made your mission easier by highlighting the extensive knowledge that you must have before making the best decision. We've also highlighted our top choices so that you can find the perfect bed for your room without any hassle.
But that's not all!
We also offer free shipping and a 70% discount on all orders to ensure you get the best bed in the UK at the best price.
So, stop thinking and start shopping. Get your dream bed today with Craftedbeds and enjoy the best room decor!
---